Among the many styles of wedding rings that symbolize love, many sisters prefer to choose simple and elegant styles, which are classic enough and can be passed down to family members.
But tired of seeing the single six-prong inlay, which is the same as the single-circle diamond?
The simple and elegant "two-stone ring" and "three-stone ring" may be the most suitable for you!
Today, let's learn about the "past life and present life" of the three-stone ring~
—— IN THIS ARTICLE ——
1. What is Three Stone Ring?
2. The History of Three-Stone Rings?
3. Why Choose Three Stone Ring As Engagement Ring?
4. Check Out Those Famous Three-Stone Rings
5. Three Stone Ring Types
6. Trends in Three-Stone Rings
7. Tips for Choosing the Perfect Three-Stone Ring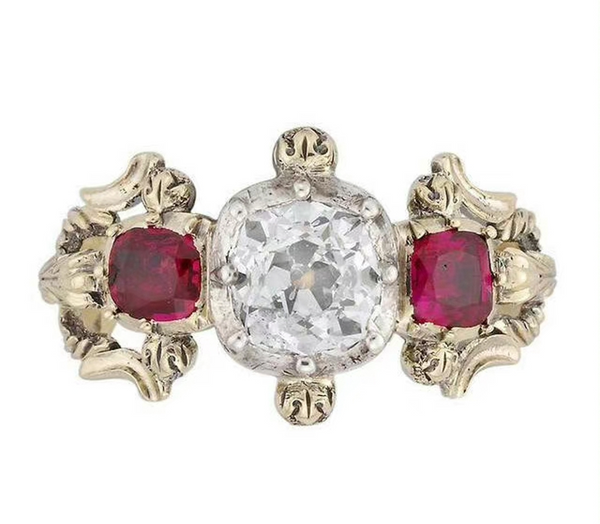 1.What is Three Stone Ring?
Three-stone Ring: Past, Present and Future
Three stone ring, or Trilogy Ring, is an ancient engagement ring style.
Its history can be traced back to at least the seventeenth century and flourished in the Victorian period.
Meaning
Originally, the three-stone ring was a wedding anniversary ring with three stones representing: past, present and future.
A small three stone ring represents love, romance and promise.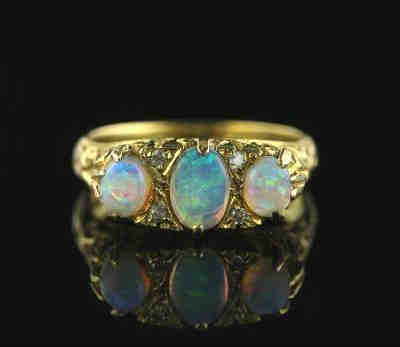 Later, there were also some three-stone rings. In addition to representing love, three gemstones can also represent family members and any important person in life. Therefore, it is the best gift for parents and family members, expressing love and eternity.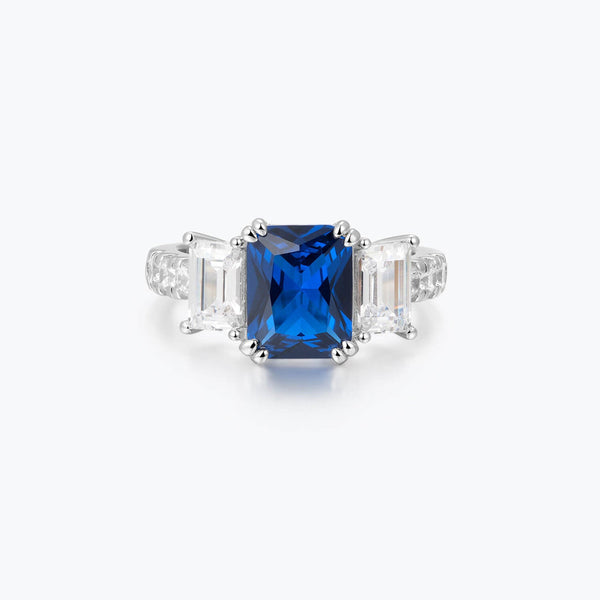 Style features
The characteristics of the three-stone ring are well confirmed: a ring in which three main stones (of the same size or one large and two small) are inlaid in a row.
The most common classic style usually has a diamond or colored gemstone in the center, and the same size or smaller gemstones of the same type are inlaid on both sides, which is both romantic and classic.
2.The History of Three-Stone Rings
 Three-stone rings are believed to have originated in Ancient Egypt over 5,000 years ago. The Pharaohs gave them as a sign of royalty and wealth. The stones were thought to represent the strengths of the sun, the moon, and the stars. The Egyptians believed that when worn together, these gems would bring luck, protection, and health to the wearer.
 Three-stone rings also appeared in Ancient Greece, where they were given as a token of love. The Greeks believed that the three stones represented the past, present, and future of the relationship.
 Over the centuries, three-stone rings evolved into symbols of everlasting love. Today, they are often given as engagement rings or wedding rings, but they can also be worn to mark a special occasion such as an anniversary or birthday.
 It has evolved to this day and has become one of the most popular engagement ring styles.
Throughout the ages, many social celebrities have chosen three-stone rings as their wedding ring styles. Many of the luxurious gemstone rings in major auctions are also three-stone styles. 
3. Why Choose Three Stone Ring As Engagement Ring?
 Engagement rings are a special symbol of love, and for many couples, choosing the perfect one is an important decision. Three-stone rings have become increasingly popular as engagement rings, and for good reason.

Three-stone rings offer a unique way to celebrate your relationship by incorporating three separate diamonds or gemstones into one design. The stones usually represent the past, present, and future of your relationship, with each representing a different stage in your journey together. This symbolism makes three-stone rings incredibly meaningful and romantic, making them a perfect choice for an engagement ring.

In addition to the symbolism, three-stone rings also offer practical benefits. For example, the three stones create an eye-catching design that will really stand out. This makes three-stone rings a great choice if you're looking for a unique and beautiful way to show off your commitment.
4.Check Out Those Famous Three-Stone Rings
Princess Grace's three-stone ring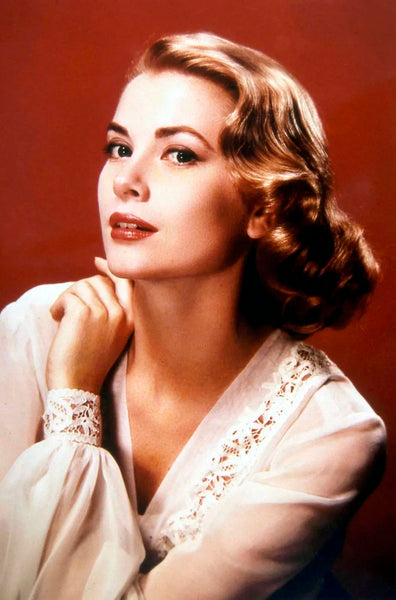 Three-stone rings have been popular in Europe for centuries, and many princesses and princesses have rings of this style. Most of these three stone rings are used as wedding rings.
Among them, the most well-known is the three-stone ring of Princess Grace of Morocco!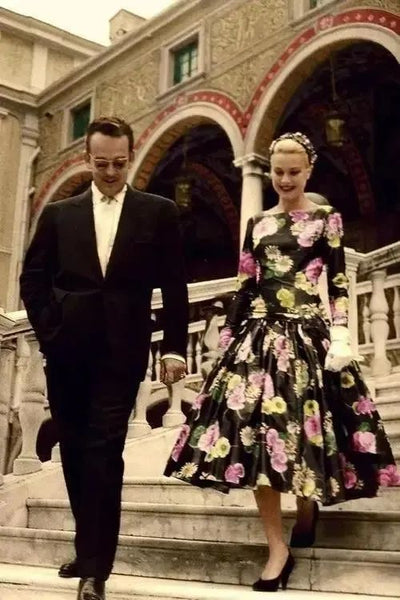 Grace Kelly, who was born in Philadelphia, USA, is a famous Hollywood movie star and won the 27th Academy Award for Best Actress. The beautiful and elegant Grace met Prince Rainier III of Monaco by chance and fell in love.
 In 1956, Prince Rainier III customized a three-stone platinum diamond ring with a main stone weighing 10.47 carats in Cartier, and successfully set a lifelong relationship with Grace.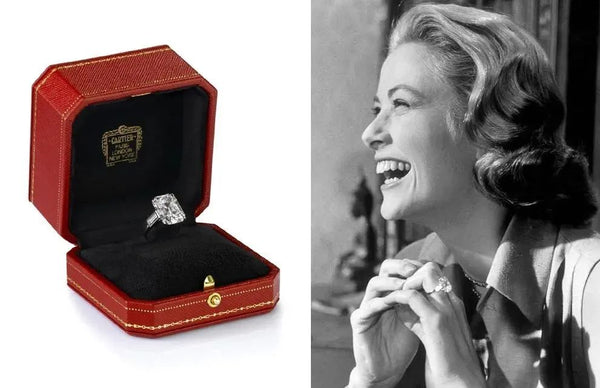 Grace once wore this important diamond ring and appeared in her film "High Society". For her, this film, like this diamond ring, represents the end of her acting career and the beginning of a new married life.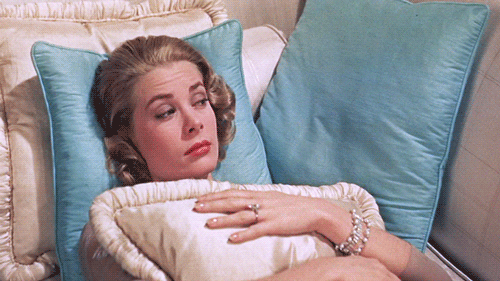 Meghan's wedding ring
Although there were constant turmoil after marriage until they withdrew from the British royal family, the wedding of the century between Prince Harry and Meghan was quite eye-catching. One of the highlights of the wedding was the three-stone diamond ring designed by Harry for Meghan.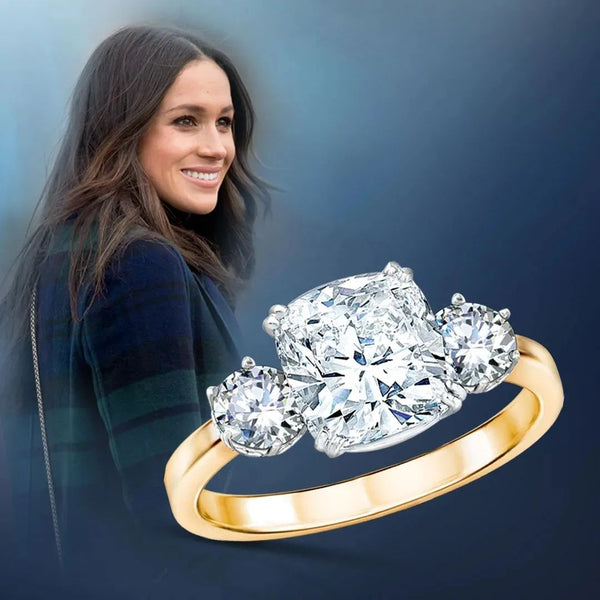 Prince Harry once revealed that the main stone of this diamond ring comes from the place where Harry and Meghan met: Botswana; and the two diamonds on both sides come from Prince Harry's mother: Princess Diana's jewelry; the ring arm is made of Meghan's favorite gold Material build.
The overall shape of the ring looks simple and grand.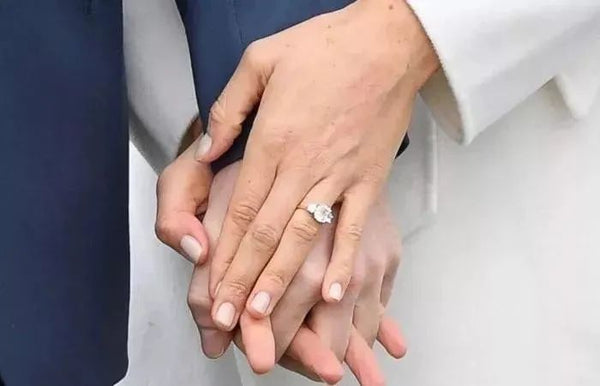 Three Stone Ring at Auction
Three-stone rings are very common at jewelry auctions at reputable auction houses.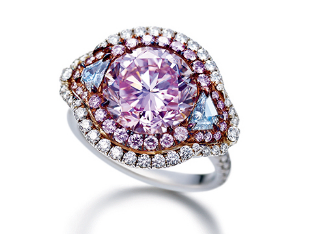 *Lot Information:
4.50 carat Fancy Purple Pink and Blue Diamond Ring, Flawless Clarity
Poly Hong Kong 2015 Autumn Auction
Transaction price: RMB 18,429,240
Many people say that the three-stone ring style is too simple, but precisely because there are not too many complicated embellishments, people will focus more on the main stone of the three-stone ring when examining gemstones, and have stricter requirements on the quality of gemstones.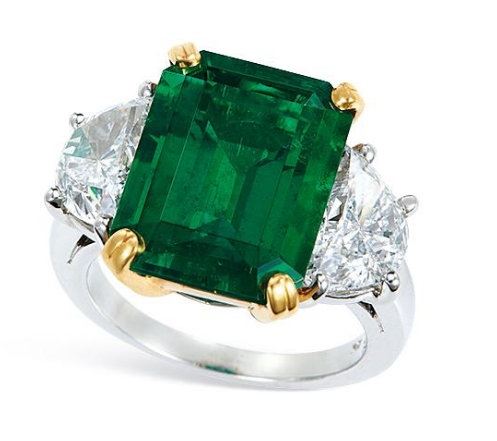 8.79 carat natural Colombian emerald ring OSCAR HEYMAN
Beijing Poly 2015 Spring Auction
Transaction price: RMB 2,070,000
Often only gemstones of a certain size and of sufficient quality are used to set three-stone rings.
10.04 carat oval natural Burmese pigeon blood ruby ring
Transaction price: RMB 49,982,450.
5.

Three Stone Ring Types
 

【

1. According to the arrangement and type of gemstones

】

Two different shapes of center stones (A.B.A):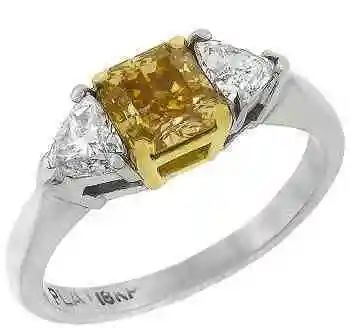 Three main stones of the same shape (A.A.A):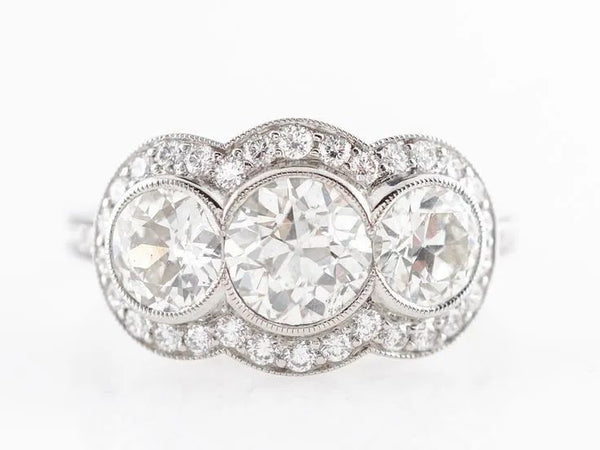 [2. According to the color of gemstones]
*Color-Contrasting Three-Stone Ring: "Let's Get Some Color"!
Three-stone rings, like two-stone rings, are the go-to styles for colored gemstone contrast rings. 
The two main stones with bright colors are inlaid together, which is not only unique, but also sets off each other.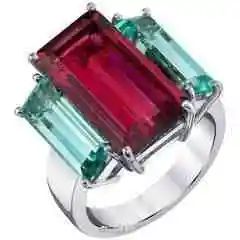 Color Contrast Duo: (A.B.A)
Most of the three-stone rings with contrasting colors are arranged in A.B.A colors. While the visual sense of color is rich, it also follows the principle of symmetry. Such styles often give people a sense of boldness and order.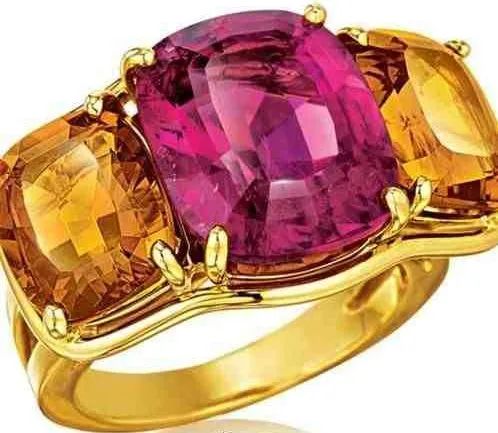 Contrasting Triad: (A.B.C)
If you are more daring and escaping, simply choose different colors for the three stones~
Most of the three-stone rings in this A.B.C color arrangement have the same main stone size, as is the case with the ring of Princess Mary of Denmark.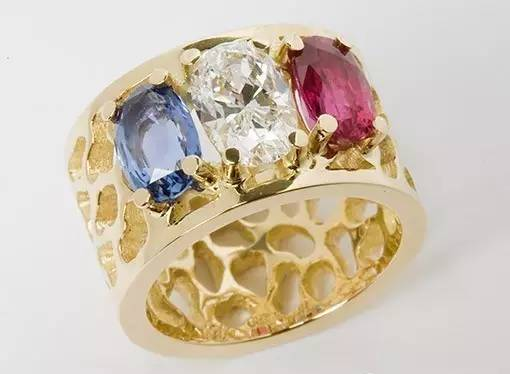 It's not just three-stone rings. In the color-blocking jewelry industry, there are many people with exaggerated and eye-catching styles. (Related reading: Play with color-blocking jewelry! Summer is here, is your jewelry "color-blocking" yet?)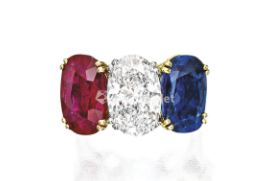 *Colorful treasures with diamonds: This kind of three stones is just right!
If you think the extreme color contrast is too exaggerated and gorgeous, it is a good choice to use a diamond main stone with a colored gemstone main stone.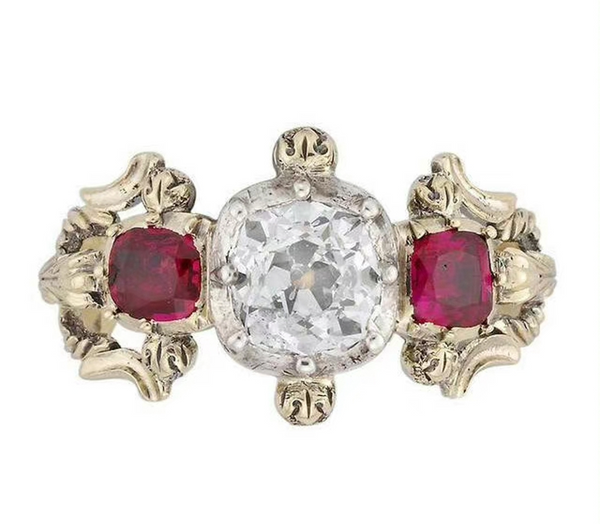 Not bland, but not overly ostentatious. Who wouldn't love a three-stone ring like this as a wedding ring?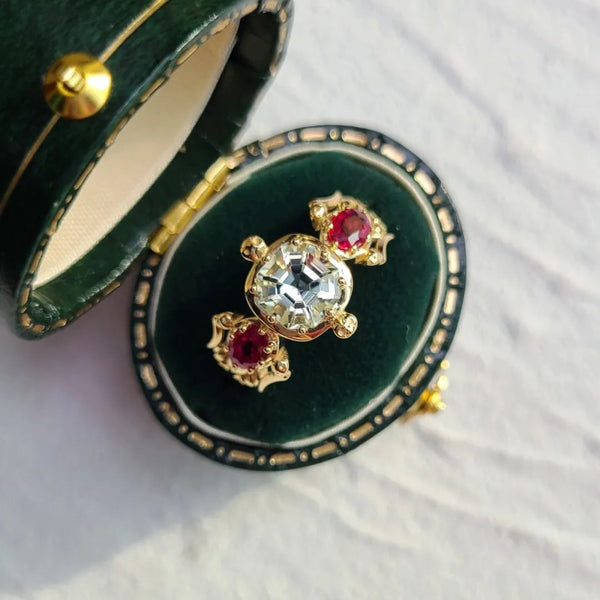 Antique Tourmaline Ruby Three-Stone Ring
*Three stones of the same color can also make three stones?
Three-stone rings with three stones of the same color are mostly diamond rings.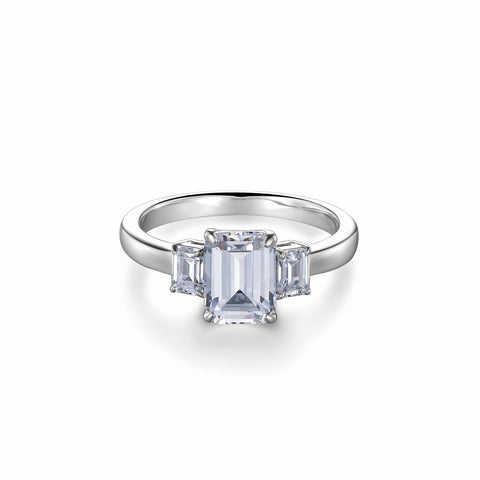 The color matching of the three colorless diamonds is more uniform and versatile in tone.
Such three-stone rings have become the first choice for many people who cannot accept colored gemstones as wedding rings.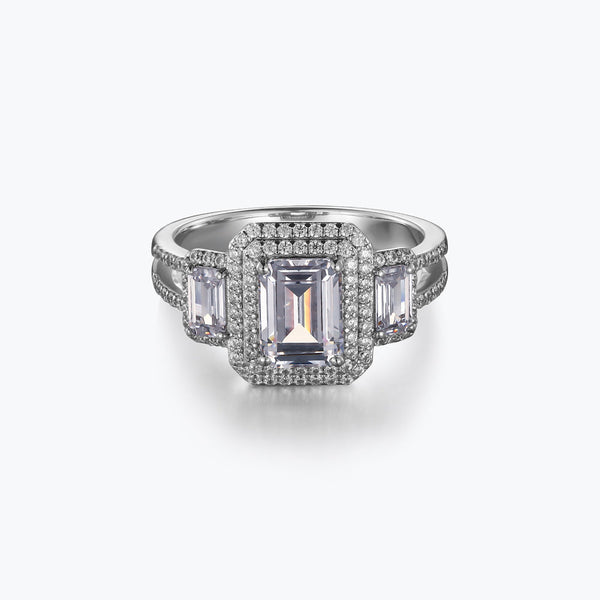 Dissoo® Emerald Cut 3-Stone Sterling Silver Engagement Ring with Halo

[3. Three-stone rings arranged in different directions]
Are you used to seeing three-stone rings arranged horizontally?
Have a look at the vertically arranged three-stone rings and obliquely arranged three-stone rings with individual hand shapes~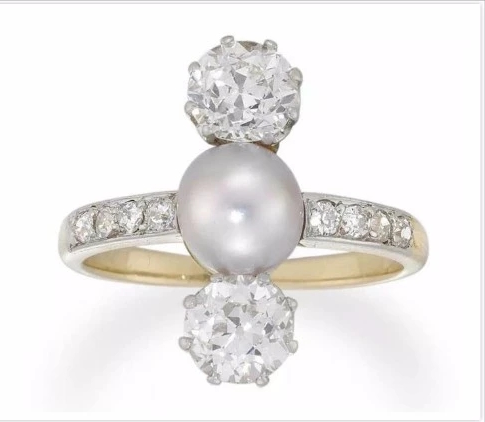 6.Trends in Three-Stone Rings
Today, three-stone rings come in a variety of designs and styles. Here are some of the current trends in three-stone rings:
Mixed Metals: Many three-stone rings feature a mix of white gold, yellow gold, and rose gold for a bold and modern look.
Colored Gemstones: Popular colors for three-stone rings include blue sapphires, green emeralds, and pink rubies.
Creative Settings: Many three-stone rings feature unique and creative settings such as twisted bands, split shanks, and more.
Vintage Inspired: Vintage-inspired three-stone rings are all the rage right now, with intricate details and antique cuts.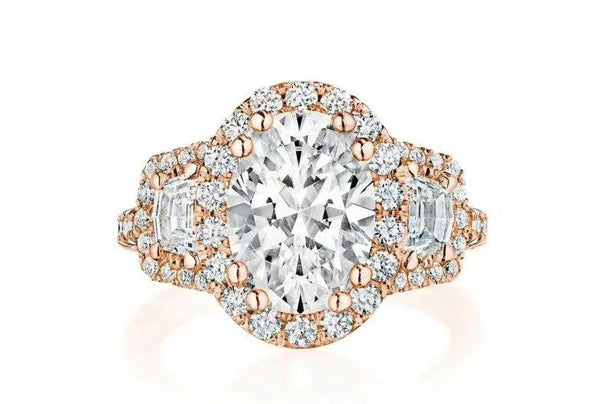 Halo Settings: Halo settings are very popular, with a center stone surrounded by a halo of smaller accent stones.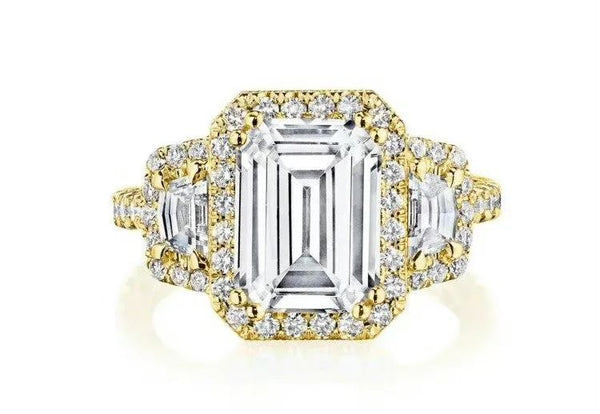 Stackable Rings: Three-stone rings are often stacked with other rings for a layered look.
7.Tips for Choosing the Perfect Three-Stone Ring
When choosing a three-stone ring for an engagement, there are several factors to consider. First, decide which type of stones you would like to include. Diamonds are the most popular choice for engagement rings, but you can also opt for other colored gems like sapphires, rubies, or emeralds. You can also choose different shapes for the stones, such as round, princess, or cushion cut.

Next, consider the size and carat weight of the stones. If you want to make the ring extra special, you can opt for larger stones that are more expensive. However, keep in mind that the overall size of the ring will be affected by the size of the stones, so don't go too big.

Finally, think about the metal you'd like to use for the band. Popular choices for engagement rings include platinum, white gold, and rose gold. Each metal has its own unique properties and characteristics, so consider what metal best suits your style and budget.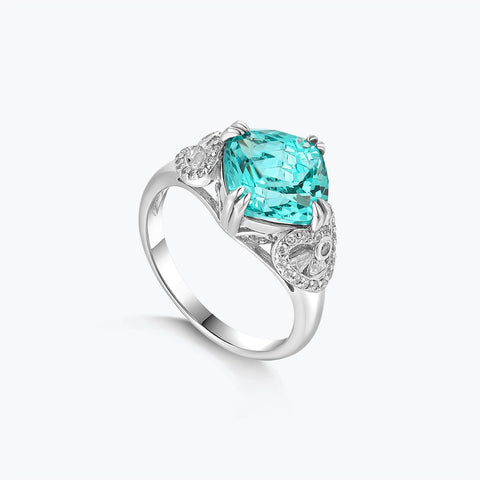 This article was first published in https://dissoojewelry.com/.Want to know more about tips on jewelry, click https://dissoojewelry.com/blogs/dissoo-blog to learn more.