Explore the world of colored gemstone engagement rings, a popular choice among royals and celebrities, and learn about the meaning and history behind these beautiful gems.
When it comes to engagement and wedding rings, diamonds are the most familiar choice, with a history dating back hundreds of years. Following in the footsteps of our predecessors, it's hard to go wrong with a diamond ring.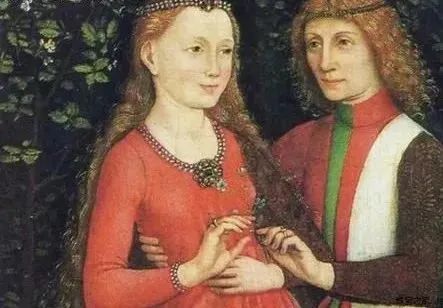 However, in recent decades, more and more royal family members and celebrities have chosen colorful gemstones for their engagement and wedding rings, sparking a trend of using colored gemstones in these special pieces of jewelry.
Princess Diana
Not to mention Princess Diana's 12-carat sapphire ring, which embodies luxury and elegance! How much is this ring loved? People even call this style the "Diana style," and it has a high popularity rate among colored gemstone designs. Today, the ring has been passed down to her daughter-in-law, Kate Middleton, continuing the classic legacy.
Kate Middleton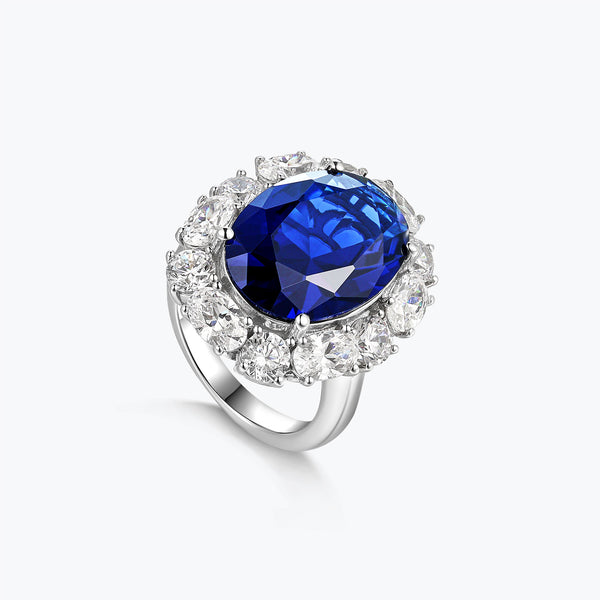 Today, let's take a look at which gemstones, besides diamonds, have been chosen as the main stones for engagement and wedding rings by royal family members and celebrities.
Sapphire

Sapphire symbolizes loyalty, trust, and faithfulness, making it a perfect choice for couples who value these qualities in their relationship.
Queen Josephine of Napoleon "You and Me" Double Stone Engagement Ring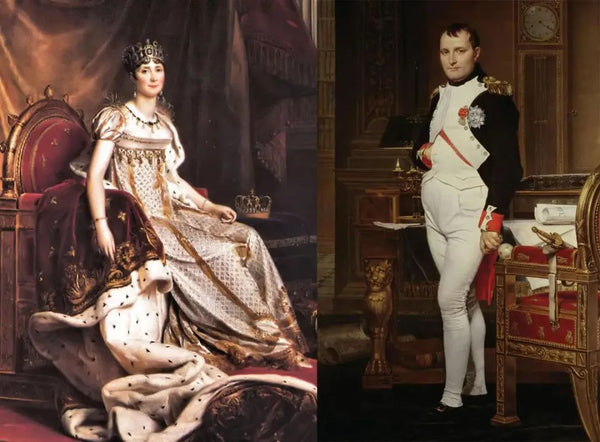 In 1796, 27-year-old Napoleon proposed to Josephine, who was six years his senior, with a simple yet heartfelt engagement ring design.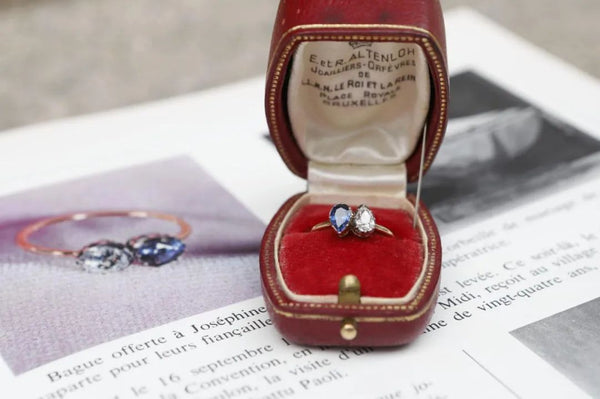 This 18th-century gold ring features two side-by-side gems - a 1-carat pear-shaped diamond and a 1-carat blue sapphire - facing opposite directions, with the phrase "destined" engraved on the inner band, symbolizing "you and me."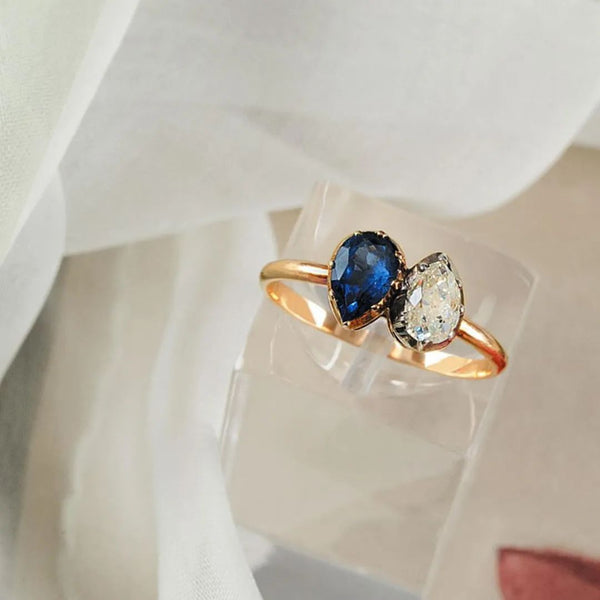 The ring was auctioned off on the 250th anniversary of Josephine's birth, eventually selling for 730,000 euros (about RMB 5.837 million).
1.Last Crown Princess of Greece Sapphire Engagement Ring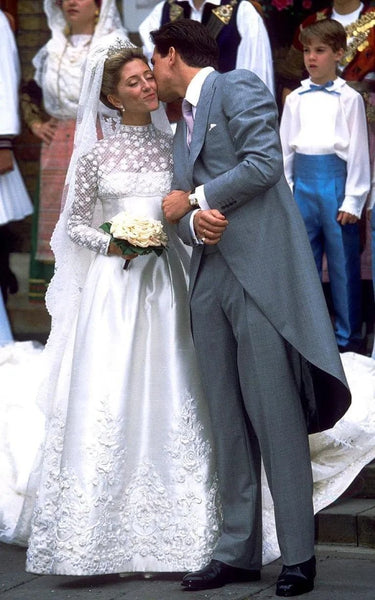 On Christmas Eve 1994, the last Crown Prince of Greece, Pavlos, romantically proposed to socialite Marie-Chantal Miller on a ski lift in Switzerland. The couple later married in 1995 at St. Sophia Cathedral in London, with the current Queen of England in attendance.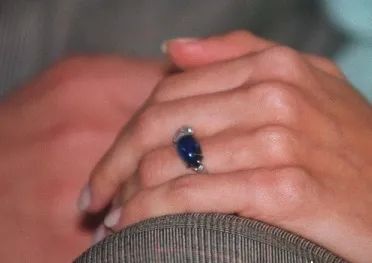 Pavlos presented Marie with an engagement ring that originally belonged to his mother, Queen Anne-Marie. The heirloom ring featured an oval cabochon sapphire. Later, Pavlos added a heart-shaped diamond to make the ring stand out from others.

2.Princess Anne Two Sapphire Engagement Rings
Princess Anne, the only daughter of the reigning British monarch, has been married twice.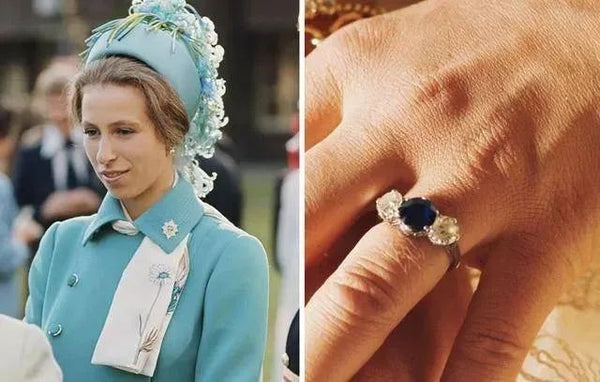 Princess Anne's first engagement ring
A lover of equestrian sports, Anne met Olympic rider Mark Phillips in 1968 and fell in love. The couple became engaged at Buckingham Palace in 1973, with Phillips becoming Anne's first husband. The engagement ring he gave her featured a square-cut sapphire in the center, flanked by two diamonds in a classic three-stone design. The couple separated in 1989.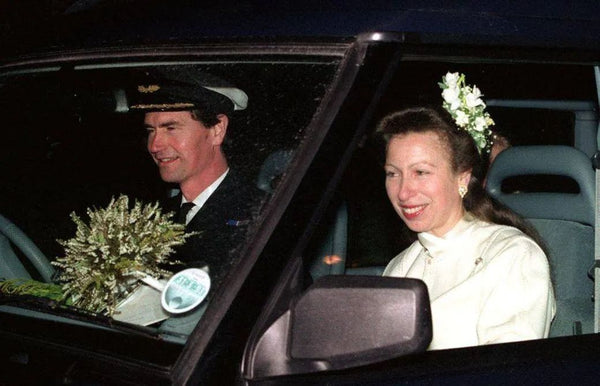 In 1992, Anne married her second husband in Scotland. This time, her engagement ring still featured a sapphire as the main stone. At first glance, it appears similar to her previous ring, but the sapphire is round and convex, with three small diamonds adorning each side of the main stone.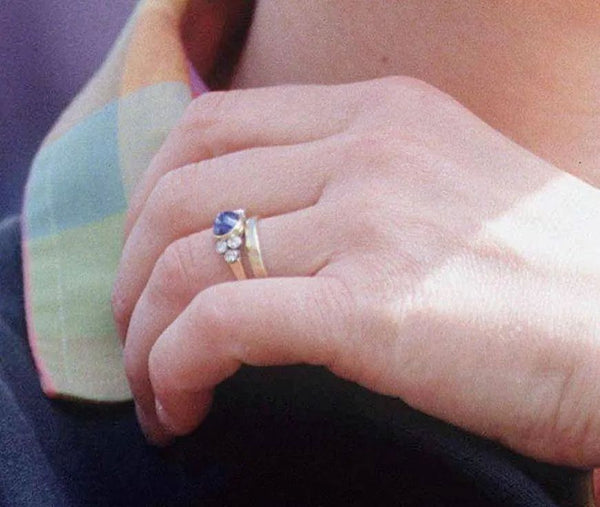 Princess Anne's second engagement ring

So far, we've seen elegant and mysterious blue sapphires chosen for engagement and wedding rings, but sapphires come in more than just blue - vibrant and romantic pink is also perfect as the centerpiece of an engagement ring.
3.Princess Eugenie Padparadscha Sapphire Engagement Ring
In 2018, Princess Eugenie of Britain (the current British monarch's granddaughter) announced her engagement to businessman Brooksbank. In the official engagement photos, Princess Eugenie wore a black floral dress, looking graceful and elegant.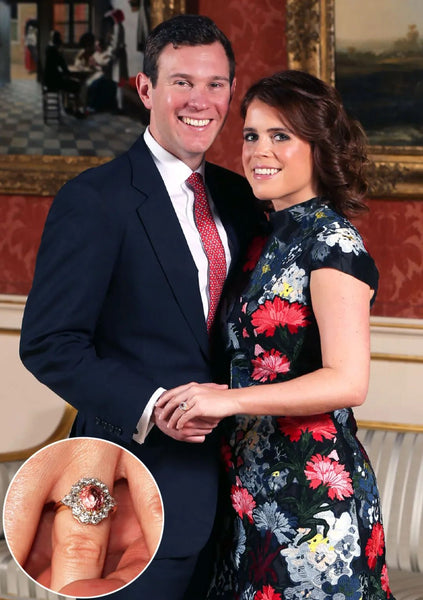 Princess Eugenie's engagement ring features a Padparadscha sapphire surrounded by 12 diamonds. It is said that the ring was designed by Brooksbank and Princess Eugenie together.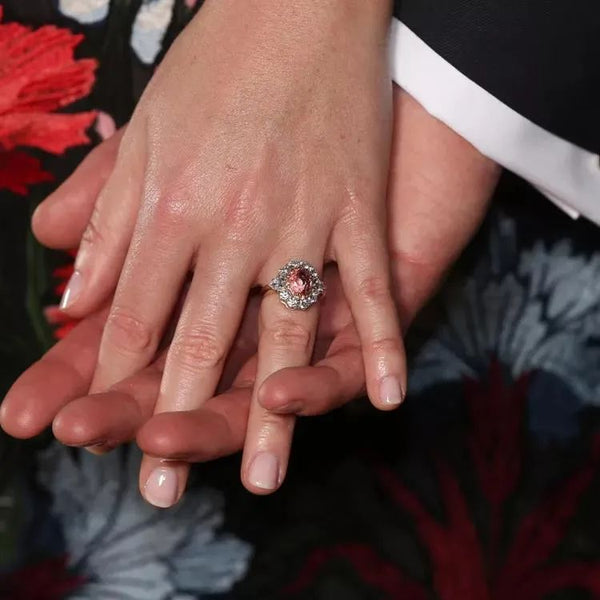 Although the main stone is pink, it is still considered a sapphire. It is a mixture of pink and orange sapphires, commercially known as "Padparadscha."

4.Lady Gaga Pink Sapphire Engagement Ring

Though Lady Gaga and her former fiancé Christian Carino called off their engagement, the engagement ring she received from him was truly eye-catching: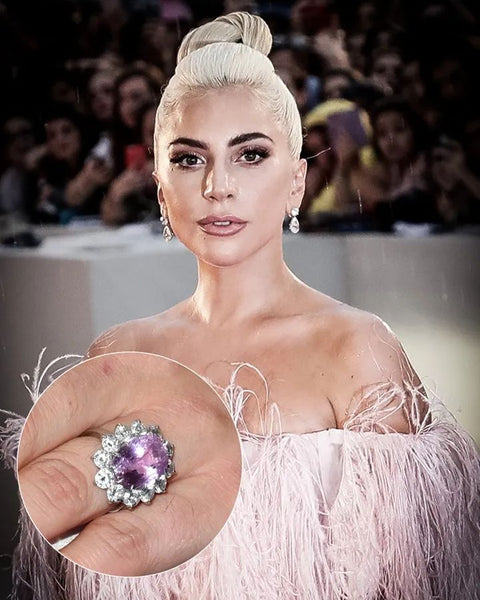 This dreamy "pigeon egg" ring features a 7-carat pink sapphire as the main stone, set amid a halo of diamonds, reportedly worth about $400,000.

In recent years, many celebrities have followed suit and chosen sapphire for their wedding rings. Blake Lively's stunning pink sapphire engagement ring from husband Ryan Reynolds and Penelope Cruz's vintage-inspired blue sapphire ring from Javier Bardem are just a few examples.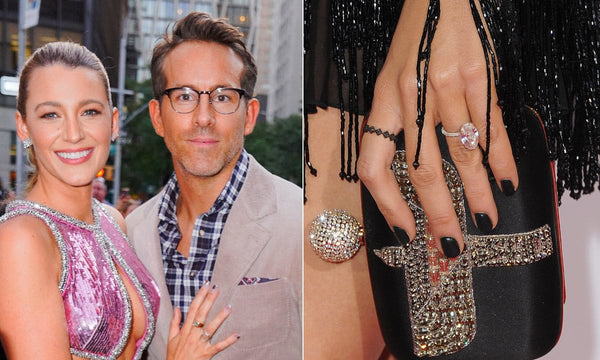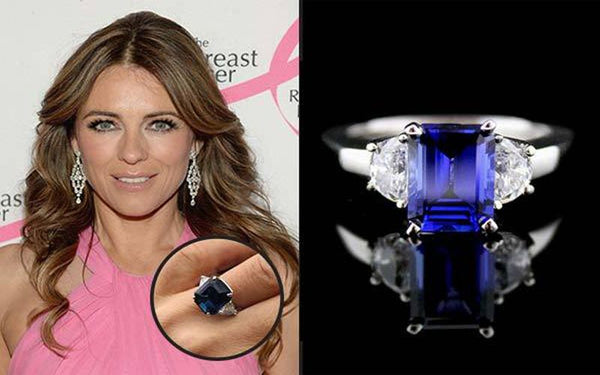 Emerald

Emeralds have been prized for their beauty and rarity for centuries. Cleopatra was said to have a love affair with emeralds, and they were also a favorite of Elizabeth Taylor.

Emerald represents hope, growth, and renewal, making it a meaningful choice for couples starting a new chapter in their lives together.



1.Duchess of Windsor Emerald Engagement Ring

The Duchess of Windsor had been divorced twice before marrying Edward VIII. To marry her, Edward, who had been King of England for less than a year, reluctantly abdicated and became the Duke of Windsor.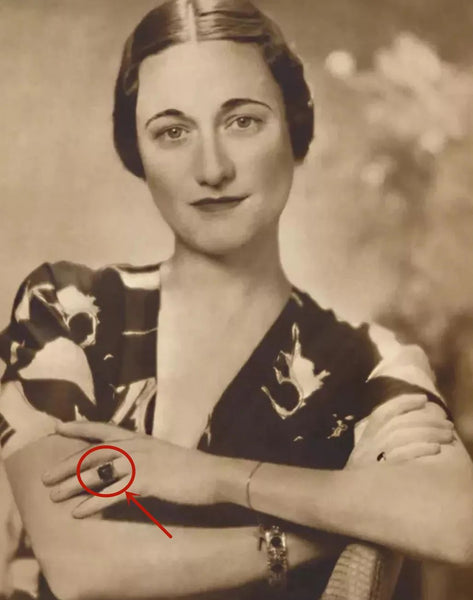 The engagement ring he presented to his wife was custom-made by Cartier, featuring a 19.77-carat emerald. The ring was engraved with "We now belong to each other 27 x 36" (translated), representing their engagement date: October 27, 1936.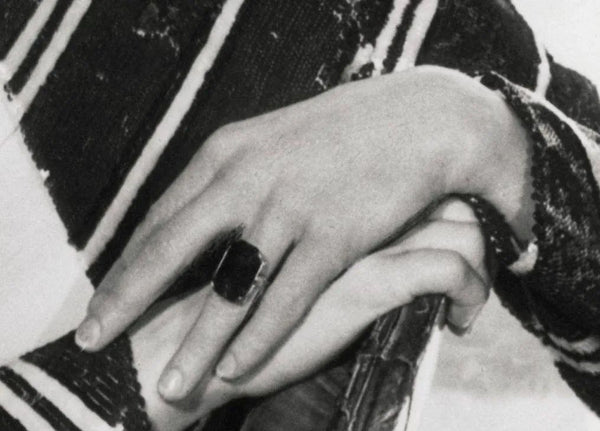 Initially, the ring only had one row of pave settings, but in 1958, the Duke of Windsor sent the ring back to Cartier to change the style, replacing the setting with gold and adding a row of diamonds around the emerald.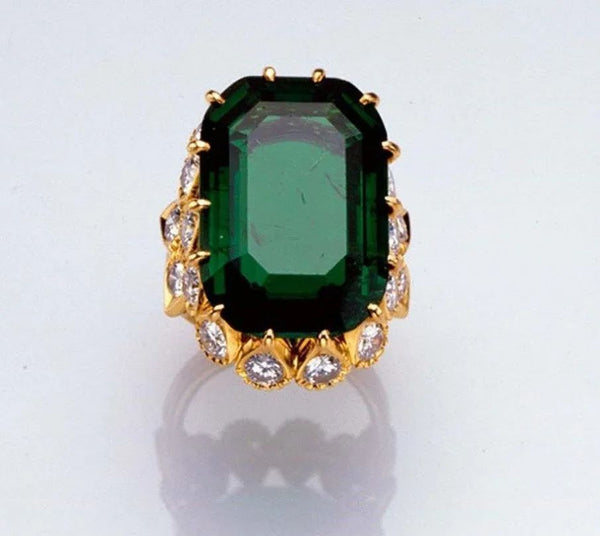 In 1987, at a Sotheby's auction in Geneva, this ring, along with other items donated by the Duchess, sold for $2.1 million. The proceeds were donated to a medical research center in France.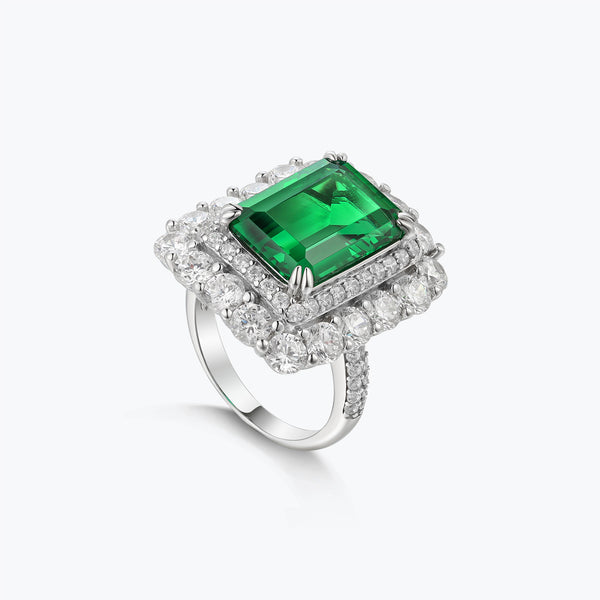 2.First Lady Jacqueline Kennedy Emerald and Diamond Double Stone Engagement Ring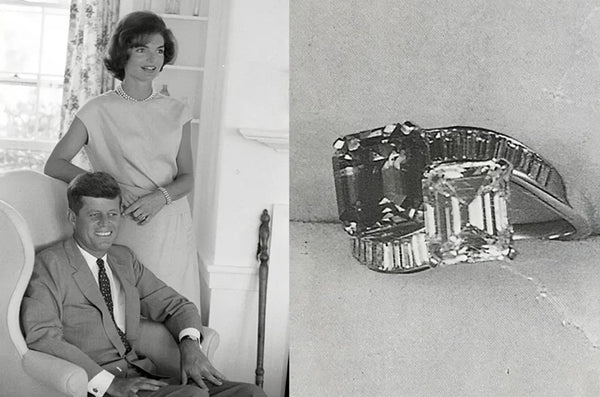 U.S. President John F. Kennedy purchased his wife Jacqueline's engagement ring from Van Cleef & Arpels in 1953. The vintage-inspired ring featured a 2.88-carat diamond and a 2.84-carat emerald as the main stones, with T-shaped diamonds set into the band.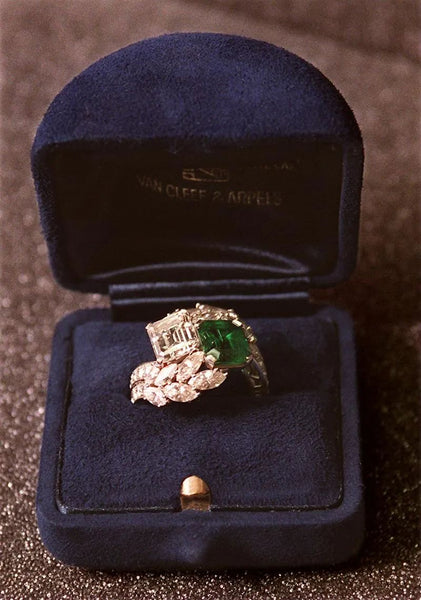 In 1963, the engagement ring was redesigned, adding 2.12 carats of marquise-cut and round diamonds with a "flower" theme.

3."Winter Emperor" Meng Xiaodong Emerald Wedding Ring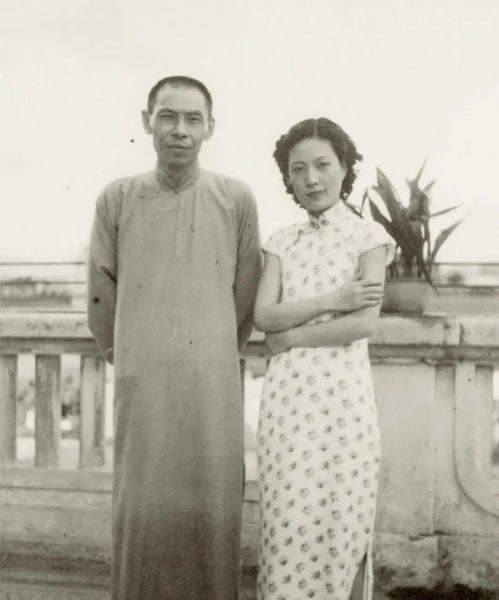 Meng Xiaodong and Du Yuesheng
In November 2014, a collection of precious paintings, original recordings, jewelry, household items, and old photos that accompanied "Winter Emperor" Meng Xiaodong through most of her life were auctioned off in Beijing. Among them, the only token of love between Du Yuesheng and Meng Xiaodong - a 17-carat Colombian emerald ring - sold for RMB 1.15 million.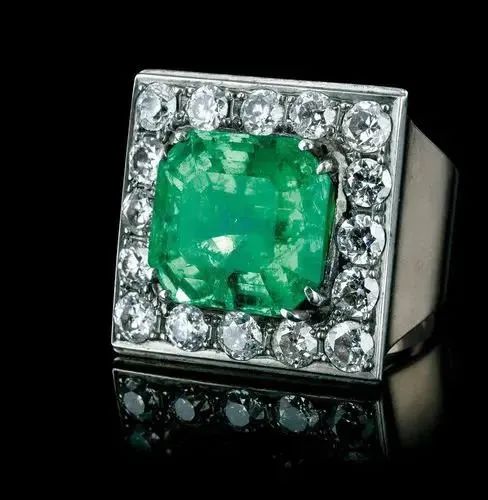 According to reports, the ring was originally Du Yuesheng's favorite, and although he moved to Hong Kong and his circumstances were not what they once were, he wanted to express his feelings and gave the ring to Meng Xiaodong as a wedding gift.

4.Halle Berry Emerald Engagement Ring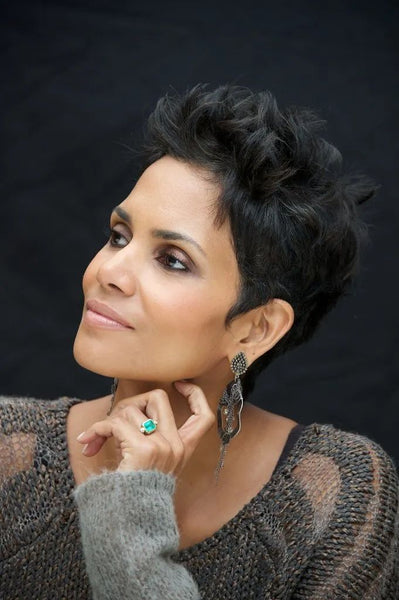 In 2012, Oscar-winning actress and first Black "Bond girl" Halle Berry became engaged to French actor Olivier Martinez.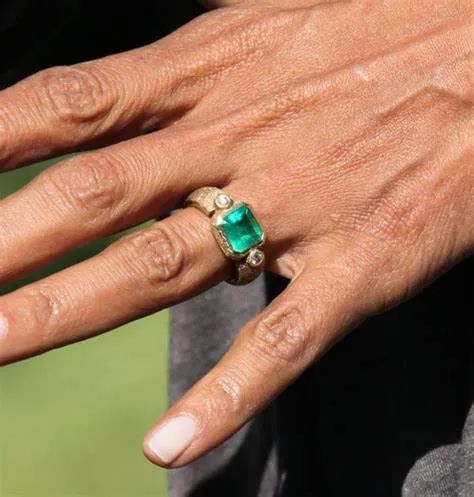 Her engagement ring features a simple, bold design, hand-forged by famous French jeweler Robert Mazio, with a square-cut emerald as the main stone.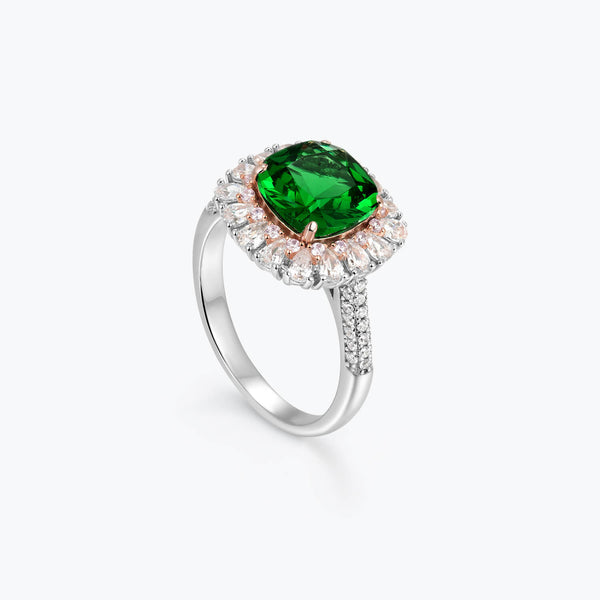 In recent years, emerald has become a popular choice for celebrity wedding rings as well. Amal Clooney's emerald-cut emerald engagement ring from George Clooney and Olivia Wilde's vintage-inspired emerald ring from Jason Sudeikis are just a few examples.

Ruby

Ruby has long been associated with passion and love. In ancient cultures, ruby was believed to protect against negative energy and bring good fortune.
Ruby symbolizes passion, romance, and commitment, making it a perfect choice for couples looking to express their love for each other.


1.British Prince Andrew Ruby Engagement Ring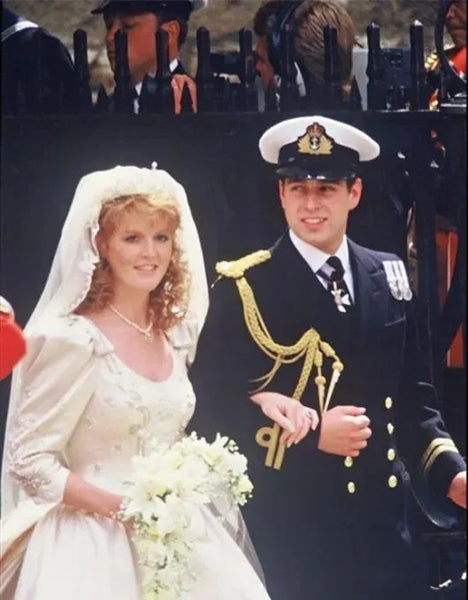 Prince Andrew, the second son of the British queen, proposed to Sarah Ferguson in 1986 with an oval-shaped Burmese ruby ring made by jeweler Garrard, which matched Sarah's red hair.



It's said that after this, the sales of rubies skyrocketed.

2.Belgian Queen Ruby Engagement Ring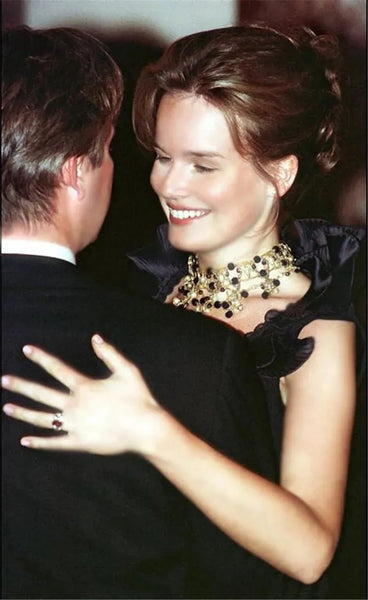 Belgian Queen Mathilde comes from a noble family in Belgium, with three generations of nobility. Her grandmother was a Polish princess, her grandfather was a baron, and her father was a count.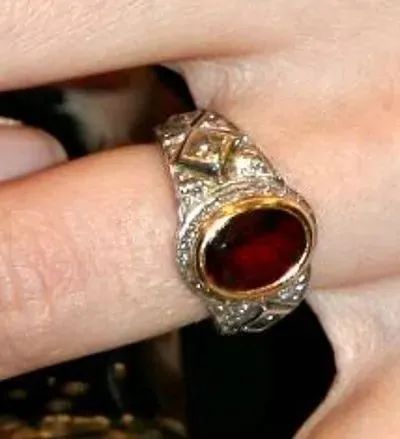 In 1999, when she became engaged to then-Prince Philippe of Belgium, she received a lavish, classically styled engagement ring. The main stone was a 2.4-carat top-quality pigeon blood red ruby from Burma, with diamonds set into the band.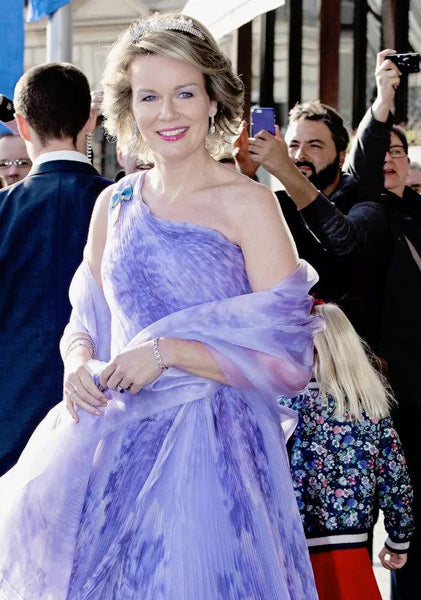 Later, in 2009, Philippe gifted her a very large sapphire ring for their 10th wedding anniversary. Since then, the sapphire ring has replaced the ruby engagement ring and frequently appears in public.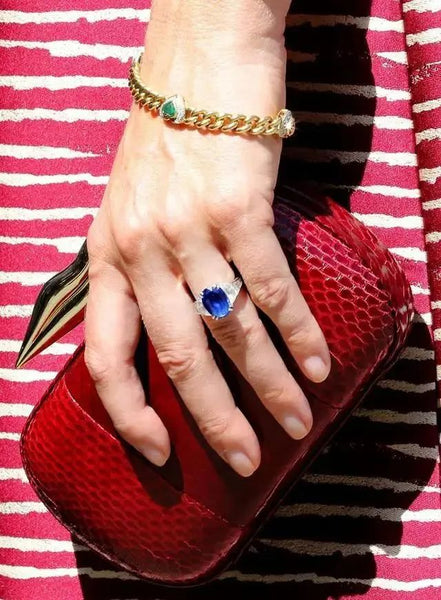 3.Korean star Hyuna Ruby Engagement Ring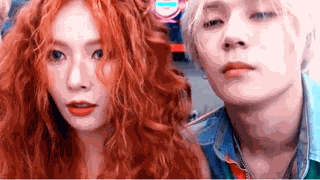 Hyuna and Kim Hyojong


At the beginning of this year, popular Korean singer and dancer Hyuna announced her engagement to boyfriend Kim Hyojong on social media.

Their engagement ring is a pair, with Hyuna's favorite opal as the main stone, surrounded by seven colorful diamonds personally selected by Kim Hyojong.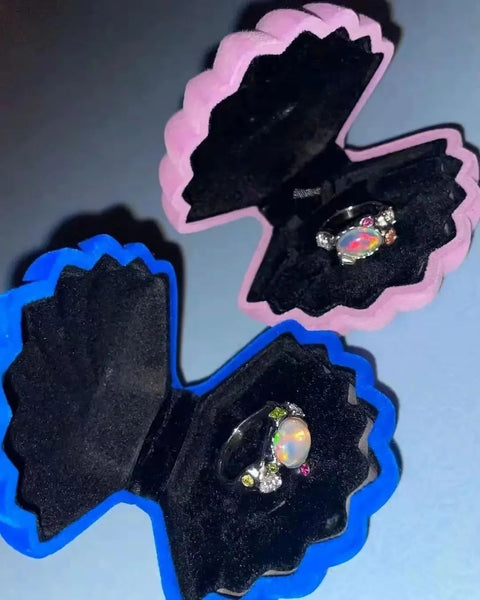 For the ring's design, at Kim Hyojong's request, the inner circle is smooth and round, while the outer circle follows the irregular lines of the opal and diamonds.

4.Oscar-winning actress Emma Stone Pearl Engagement Ring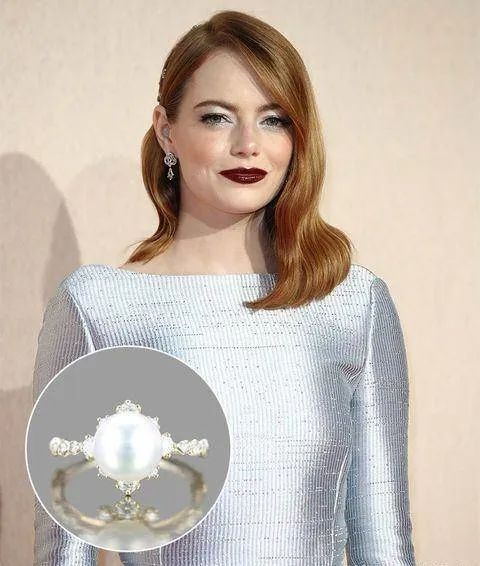 In December 2019, Oscar-winning actress "Stone Sister" Emma Stone announced her engagement to boyfriend Dave McCary on social media. In the photos, Emma Stone wore a sweet pearl ring with a radiant smile.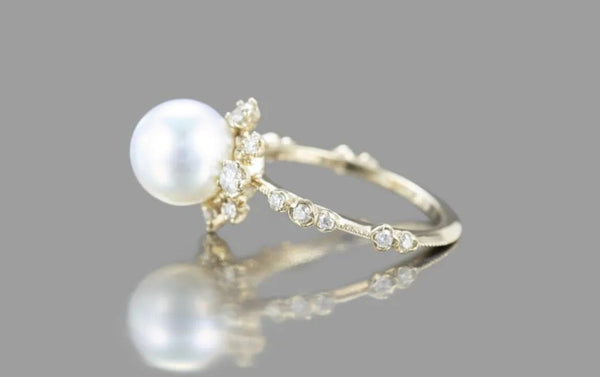 The ring is from New York jewelry brand Catbird and features an Akoya pearl as the main stone, surrounded by 37 points of small diamonds, in an elegant snowflake design. Surprisingly, the price of this ring is just $4,780, which is quite rare among Hollywood stars with multiple "pigeon eggs" in their possession.

Many celebrities have opted for ruby in their wedding rings, including Jessica Simpson's ruby and diamond ring from Eric Johnson and Emma Stone's oval-shaped ruby from Dave McCary.

Conclusion:
Colored gemstones have become a popular trend for celebrity wedding rings, and for good reason. Not only do they add a pop of color, but they also hold significant meaning for the couple. Whether it's sapphire, emerald, or ruby, each stone symbolizes something special and unique.
As more and more celebrities opt for colored gemstones in their wedding rings, we can expect this trend to continue to grow in popularity. After all, who wouldn't want a little bit of color and meaning in their most important piece of jewelry?
What kind of gemstone would you like on your engagement and wedding ring?
This article was first published in https://dissoojewelry.com/.
Want to know more about jewelry,click https://dissoojewelry.com/blogs/dissoo-blog to learn more.