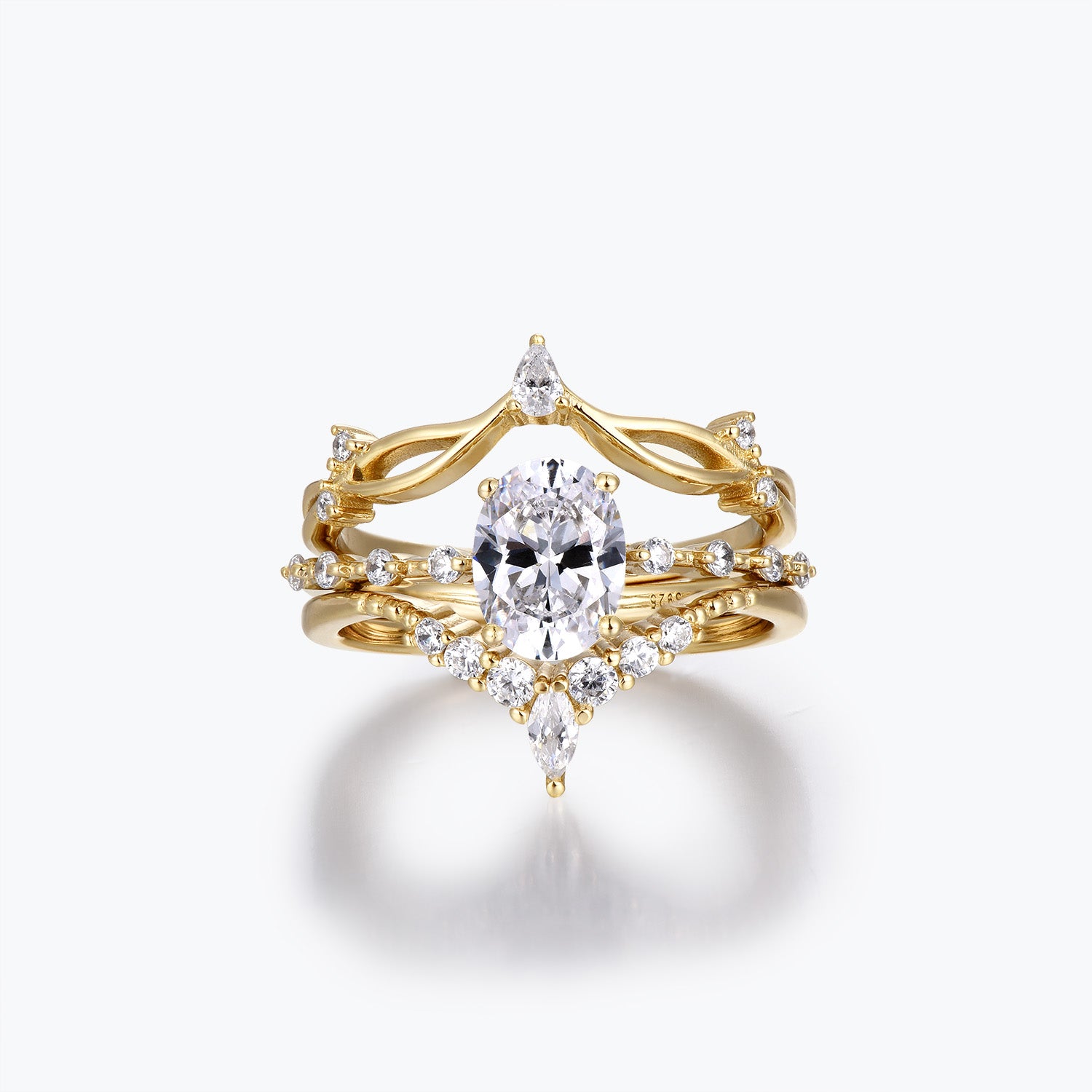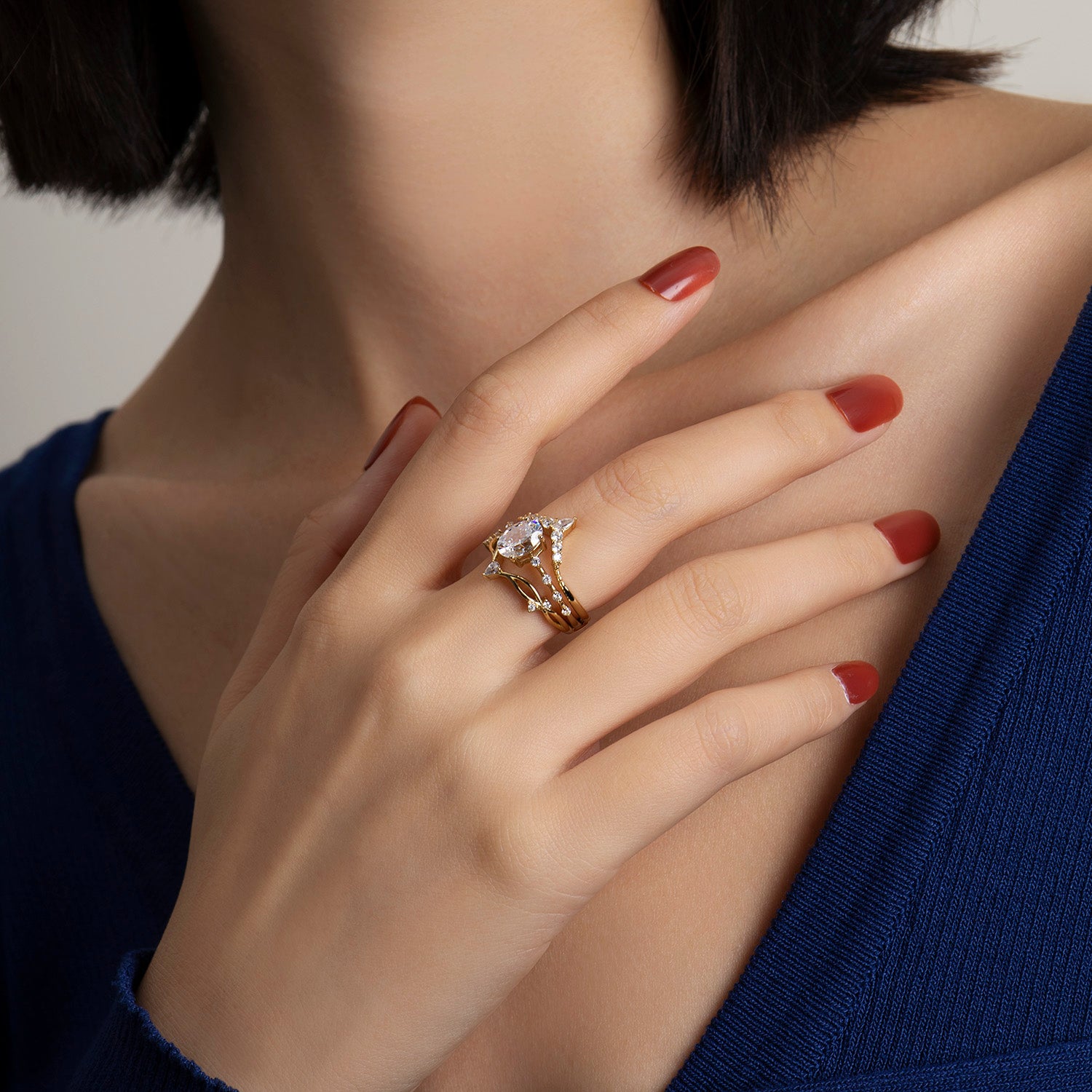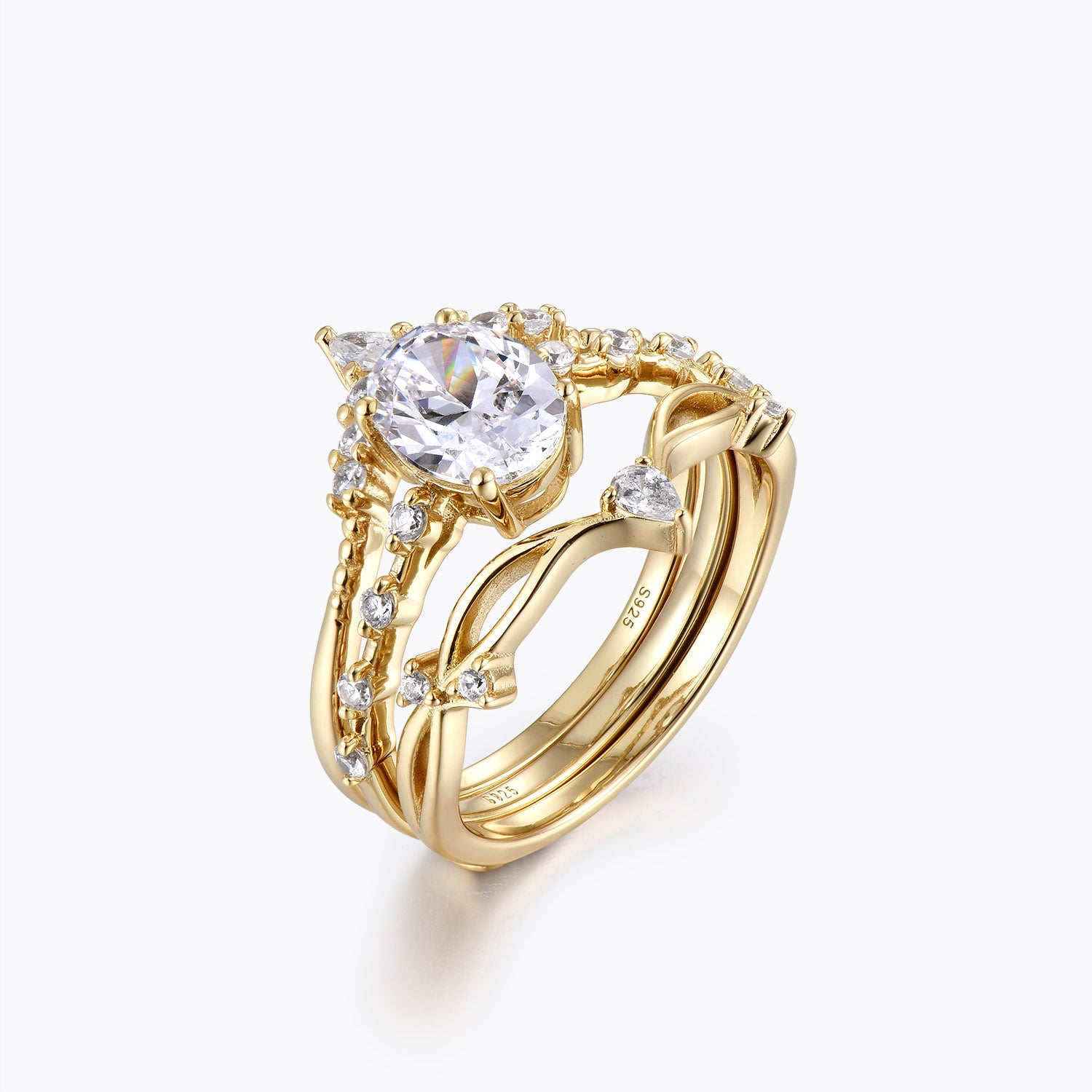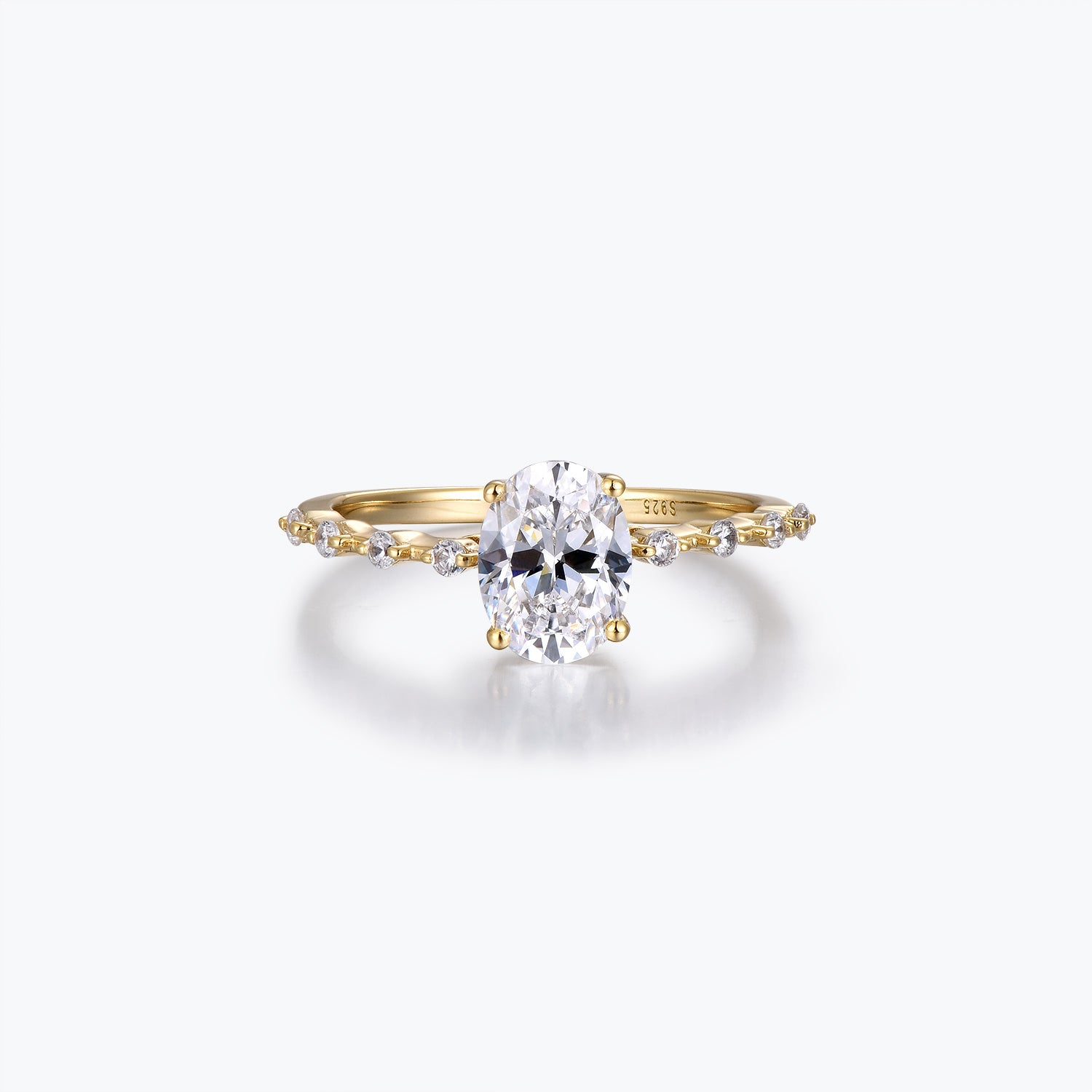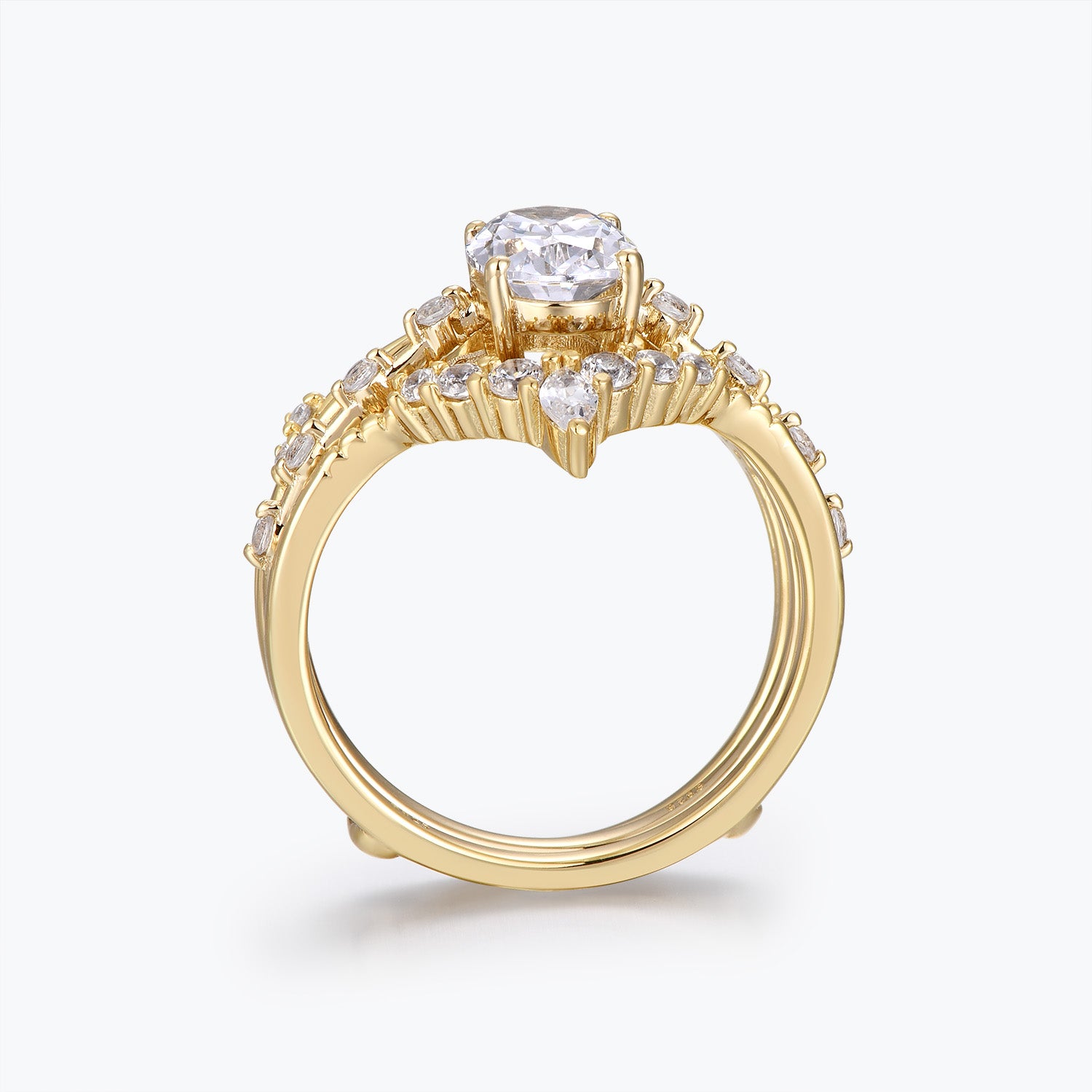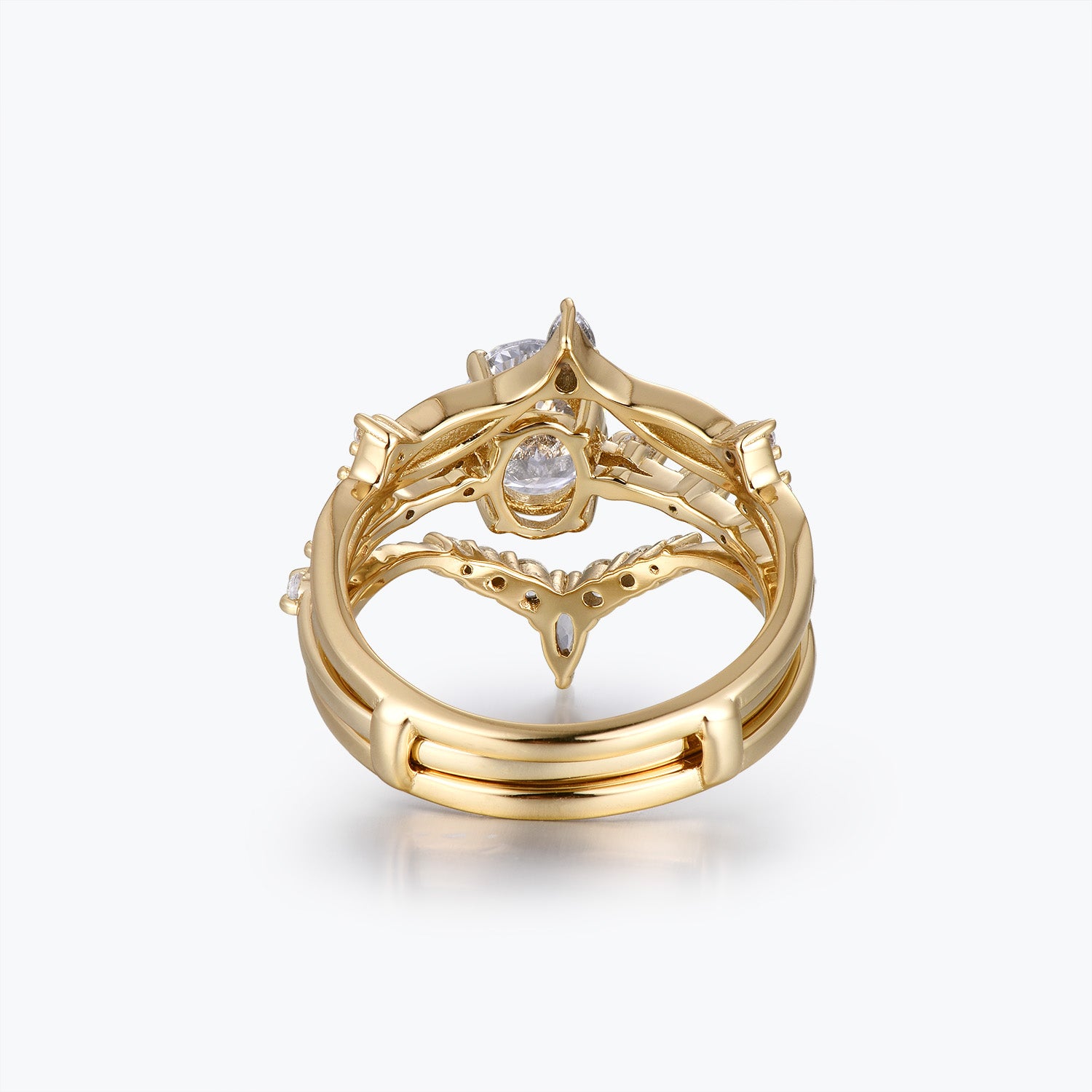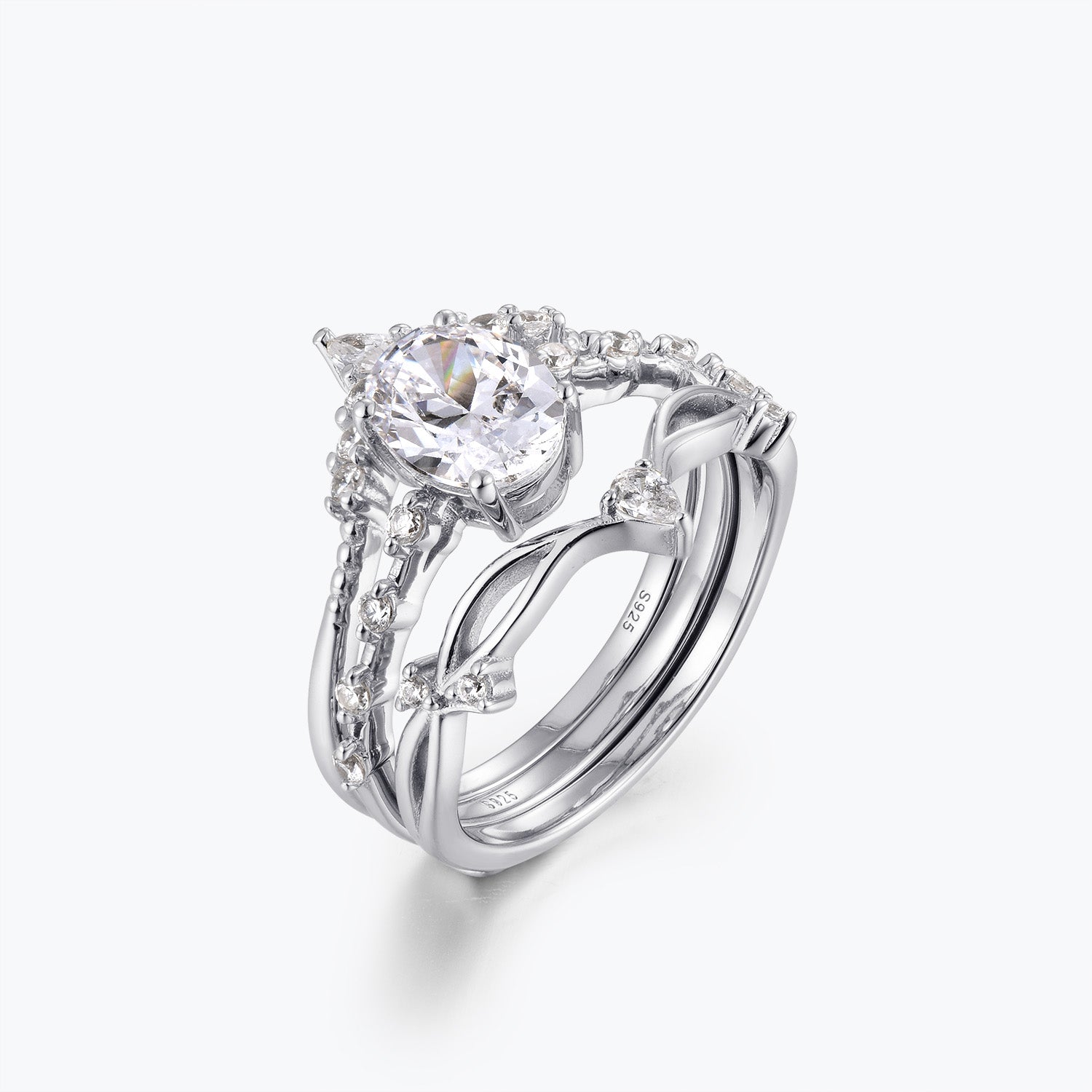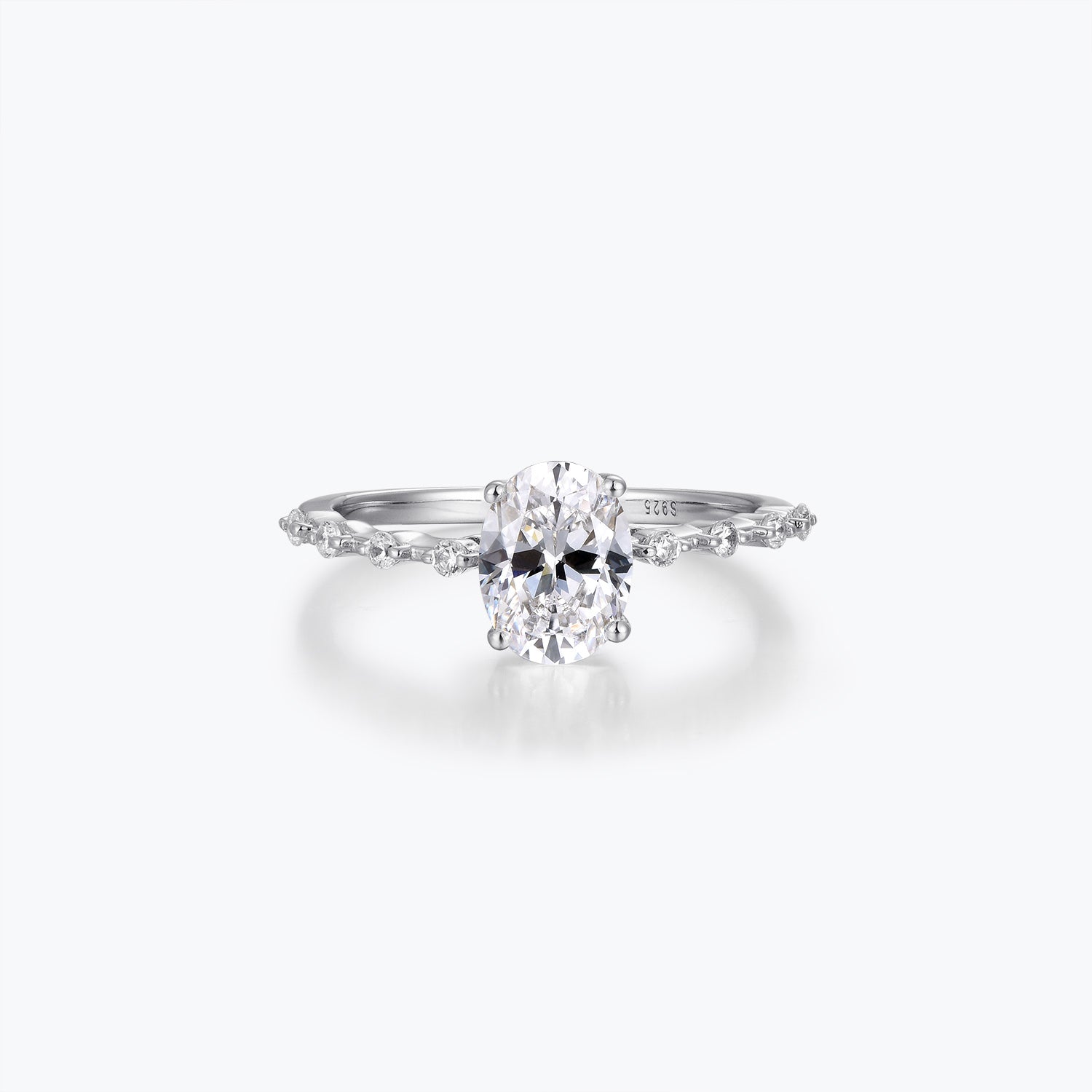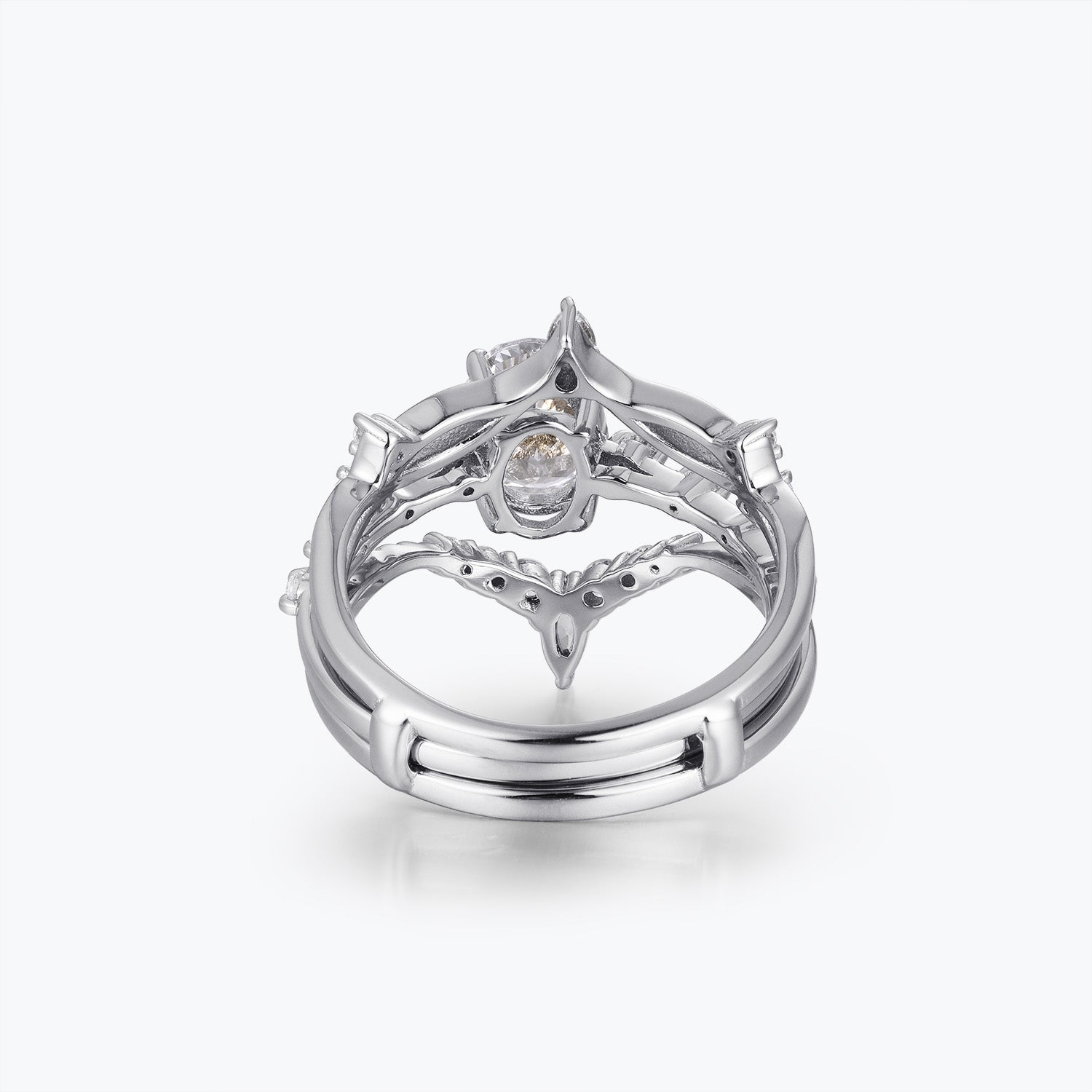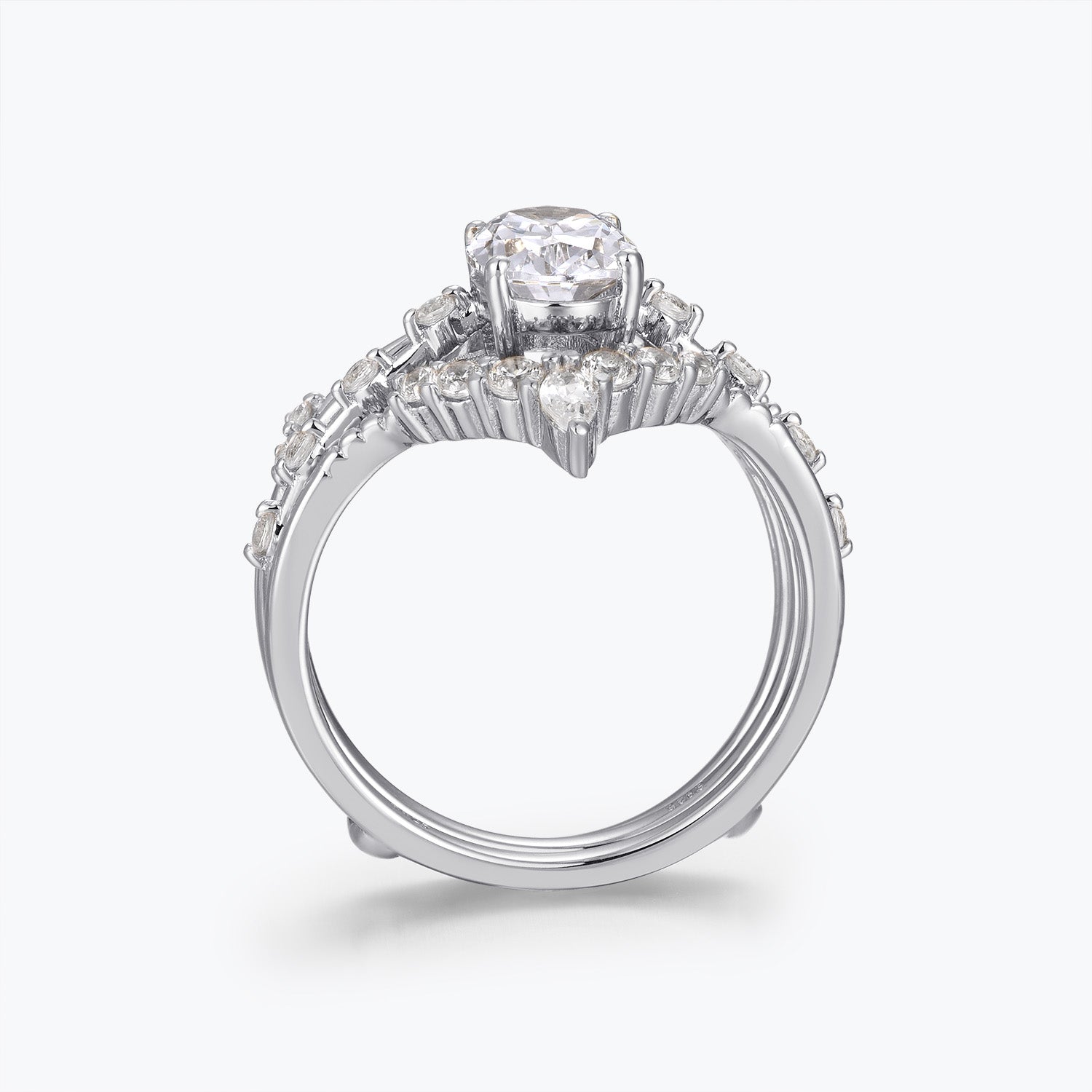 Dissoo® Side Stones 1.5CT Oval Cut Moissanite Three-Piece Bridal Set
Material:
925 Sterling Silver

Introducing our stunning Dissoo® Side Stones 1.5CT Oval Cut Moissanite Three-Piece Bridal Set - the perfect symbol of your love and commitment.
Crafted to perfection, this bridal set features a breathtaking 1.5 carat oval cut moissanite stone that is sure to catch the eye of anyone who sees it. Its shimmering brilliance and fire will leave you mesmerized, while the smaller side stones accentuate its radiance and create a truly captivating effect.

The three-piece design includes a beautifully crafted engagement ring and two matching wedding bands, all made from lustrous 14K white gold. The result is a breathtakingly beautiful set that will take your breath away every time you look at it.

Crafted with the highest quality materials and expert workmanship, our bridal set is designed to last a lifetime. The moissanite stones are ethically sourced and carefully selected for their exceptional brilliance, fire, and clarity, making them an ideal alternative to traditional diamonds.

Order yours today and experience the beauty and luxury of Dissoo® jewelry!

Engagement Ring Details
Center Stone: 
Carat: 1.5ct (High Quality)
Type: Moissanite
Shape: Round

Side Stone:
Type: Moissanite
Carat: 0.12ct (High Quality)
Clarity: SI-VS
Color: g-h
All diamonds are conflict free determine

Wedding Band Details
Type: Moissanite
Carat: 0.48ct (High Quality)
Clarity: SI-VS
Color: g-h
All diamonds are conflict free determine

 Setting Information
Available in 925 Sterling Silver, 14k Gold Vermeil, 14K Solid Gold.
Color : Gold / Silver
Weight : 4.96g

Quality Verified By International Institution SGS
SGS: The world's largest and oldest product quality control and technical identification multinational company
I originally purchased this ring because I lived in a section of a large city that felt rather unsafe, so I didn't want to wear my original diamonds while walking the dogs and draw attention. (It's not that my wedding set is worth $1M nor anything remotely close, but call me sentimental. I would be heart-broken if I lost it or someone forced me to give the rings up.) However, I never realized that this Oval cut-style ring actually looked real due to its specific cut of the stone. I was happy to sport my little ring and chuckled, well, if I did get robbed, I would only lose $400, although the trauma of it all would certainly be lasting. The thing is, my husband and I were walking back with the dogs, and as we passed the train station, one guy came out from behind the wall and began to follow me. He got too close for my comfort, so I swirled around and stopped in front of him, and in a VERY loud voice asked if I could help him. It must have broken his pattern of thinking because he stopped, looked at me, and then abruptly crossed the street. Later, I realized that it must have been the ring. Needless to say - I decided that NO ring was worth being robbed over, even if it was only $400! I never wore any rings again until I moved from that area.
I said all of that to say this - the cut is beautiful and the stone is beautiful - and I am glad I trusted the other reviews to make my purchase. I have had this ring for more than 1 years now and have banged it and it still looks great. We moved to the suburbs, so now I do feel comfortable wearing my wedding ring set and wear this one (without the band) on my right hand because it's just too pretty to leave at home.
I am definitely no curator of fine jewelry, so if someone else wore this ring, I would be thinking, "Bling, bling, baby - bling, bling!!" Apparently my friends are not curators of fine jewelry either because a friend of mine who was visiting from out of town couldn't take her eyes off of it during lunch. I finally just told her where I bought it - I didn't want her to think I was making all kinds of money and be on the hook for dinner, too!! :D
Bought this on a whim and very happy with it. Love the Oval cut and setting looks vintage. Well made. Lots of sparkle. Great price. A lot of look for the money.
I've gotten a ton a compliments on this wedding ring set. People think my husband bought this from some top notch jewelry place.
Looks better in person but I've been wearing for months now and it's not chipped and none of the stones have fell out yet I usually turn green pretty quickly with cheap jewelry and was scared with this ring I would with it being so cost efficient my fiance and I don't have a lot of money and and really didn't want to spend a lot on our wedding or the rings and the first ring he got me the rose gold came off so when we found this one and it didn't fade we were extremely happy and if it ever gets stolen or something it's easy to replace so not to mention it sparkles so pretty In the light the picture doesn't do it justice at all
The ring is very beautiful! The stone is big and he's pretty stylish.
Share Your Joy
Tag a photo with #dissoojewelry on social media for a chance to win a $100 Dissoo Gift Card
The Making of Dissoo® Jewelry
Experience Affordable-Luxury & Convenience
Complimentary Gift Wrap!
Packing list: packing box X1, handbag X1, wiping cloth X1
Free Worldwide Shipping and Free 30-Day Returns and Exchanges.
Unwrap your new treasure and indulge in the joy of luxury!Enhance your shopping experience with our exceptional service advantages.