Tassel jewelry is a timeless and versatile accessory that has been around for centuries. From the ornate tassels of ancient royalty to the bohemian tassels of the 1960s, tassel jewelry has a rich history and continues to be popular today. The beauty of tassel jewelry lies in its simplicity - a single strand of beads or chain, topped with a soft and flowing tassel, can add just the right amount of elegance to any outfit.
March is approaching, the season when everything recovers, and the wind becomes warmer.
Take off the heavy winter scarf to reveal the slender neck, and pair it with a pair of smart tassel earrings, it is really swaying.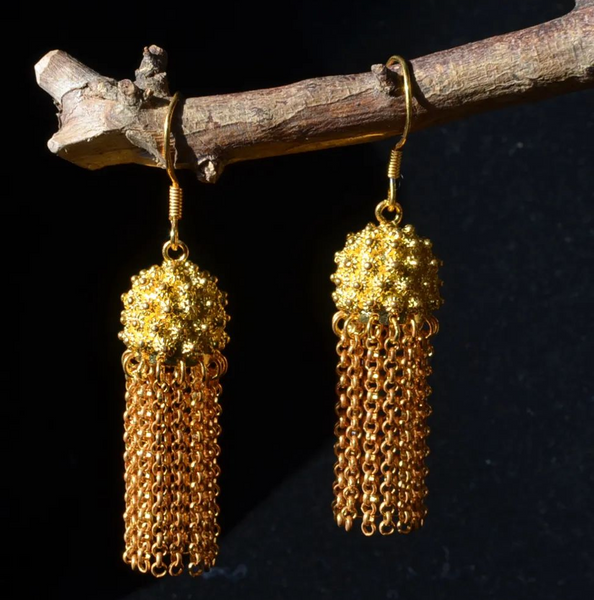 "Huanxi Sand" | Jeweller's official website for sale
In jewelry, the tassel element is really synonymous with the perfect combination of elegance and agility.
The same tassel element, different personality interpretation! Today, let's take a look at the " tassel fashion " of various jewelry .
Platinum necklace with diamonds, by MIIORI
The use of tassel elements in jewelry has a history of thousands of years.
In our country, tassel decoration has a long history: it can be seen in the crown of the emperor's head "mian ".
The popular headdress Bu Yao in the Tang Dynasty evolved into the empress headdress in the Qing Dynasty, and more exquisite tassels appeared, commonly known as "tiaozi".
 Gold-plated tassels with emerald beads, Qing Dynasty 
In Europe, from the 16th and 17th centuries, fringe elements became increasingly popular in aristocratic decorations.
Victorian tassel element design draft
Time changes, in the 21st century, people's love for tassels has not faded with the passage of time, and tassel elements have always occupied the fashion trend in jewelry.
Tassel jewelry - never understated, what is required is gorgeous
Many people choose to wear jewelry with tassel elements on occasions where they need to be gorgeous. They are large in size and swaying. Wearing it, you will be the brightest cub in the audience.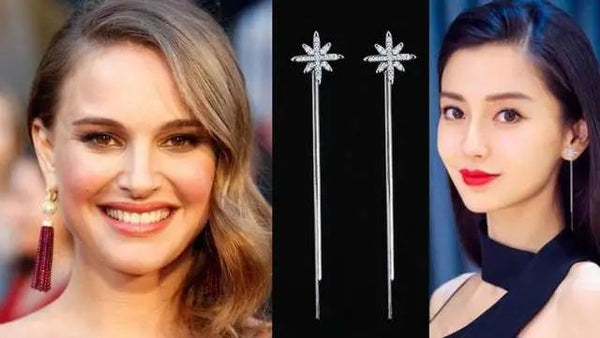 In the famous story of loving country but not beauty, on Mrs. Simpson's 40th birthday, Edward VIII, who had just been king for half a year, gave her a birthday present, which was a diamond ruby ​​tassel necklace designed by Van Cleef & Arpels.
Mrs Simpson and the Duke of Windsor 
The main line of the diamond represents the Duke, and the ruby ​​is Mrs. Simpson. The two are intertwined, just like the emotions of the Duke and Mrs. Simpson.
The extended ruby ​​tassels are majestic and agile, which is quite unique among all the necklaces.
Van Cleef & Arpels also has an impressive zipper tassel necklace, which is also indissoluble with Mrs. Simpson.
In 1938, the Duchess of Windsor suggested a zipper necklace to Reneé Puissant, the artistic director of Van Cleef & Arpels.
In 1950, the Zip zipper necklace set with round and baguette-cut diamonds in platinum was born.
In 1951, Van Cleef & Arpels' Zip series necklace boldly broke through the design concept: when the zipper is opened, it is a necklace, and after removing some accessories and closing the zipper, it becomes a bracelet.
Mrs. Simpson provided the inspiration for the fringed zipper necklace provided by Van Cleef & Arpels, which has been popular throughout the century and has influenced it to this day.
A necklace that slides freely like a real zipper, with a multi-purpose design, breaking the world's impression of jewelry being worn alone.
Unlike the limitations of other design elements, tassels are really a versatile design element in jewelry. Whether it is necklaces or earrings, they can show different gorgeous styles through tassel elements.
Long tassel necklace
If you have an elegant deep V dress, the following Tiffany & Co diamond tassel platinum necklace must be an unmistakable and eye-catching matching highlight.
Platinum necklace with diamonds, by Tiffany & Co
If you think platinum and white diamonds are too quiet, adding some emeralds would be a good choice.
Cartier carved emerald necklace
In recent years, Kimberley, Chow Tai Fook and other traditional Chinese jewelry brands have successively launched high-end jewelry designs.
The Kimberley brand, which focuses on diamonds, also has a soft spot for tassel elements.
In the high-end jewelry of the Kimberlite Diamond Collection, the combination of tassel elements and traditional Chinese pattern themes highlights the ultimate luxury of high-end diamond jewelry.
The red, blue and green colors that were originally gorgeous, became even more bright and colorful after being turned into tassels.
In Chopard's Red Carpet ruby ​​series, layers of plain ruby ​​inlays look like swaying skirts. In addition, the Red Carpet series is also made of titanium metal skeleton, which makes the overall visual effect of the work more colorful.
Red Carpet ruby ​​and white gold necklace, by Chopard
In the Bulgari high-end necklace below, the design of the sapphire tassel with the shape is adopted. The color of the tassel part echoes the color of the main stone sapphire on the pendant and complements each other.
Festa pendant necklace in sapphire and platinum, by Bulgari
After the emerald, which was already extravagant, became a tassel necklace, it became a "ladies style", and no one could stop it.
Left: Long Emerald Necklace, Red Carpet, by Chopard; Right: White Gold Necklace, Verrière, Diamonds, by Boucheron
Extravagance and personality should be Louis Vuitton's emerald tassel platinum necklace.
The emerald tassel, which is the highlight of the entire necklace, is not arranged in the middle according to the rules, but is arranged on the left side with personality.
Like you who are different, do you fall in love at a glance?
Emerald platinum necklace, by Louis Vuitton
Turning hundreds of refined steels into golden tassels wrapped around fingers, one word is "Sa"!
Secrets d'Orients topaz necklace, by Chanel
The following Boucheron's Armoiries topaz gold necklace also uses European retro hollow patterns, which is elegant and moving.
Armoiries Gold Topaz Necklace, by Boucheron
Versatile but a bit cookie-cutter pearl necklace, adding tassel elements can have many completely different styles after careful design.
Left: Colonne d'Acanthe necklace in white gold with diamonds, by Boucheron; Right: Ombres et Lumière necklace in rose gold with pearls, by Hermès
Most pearl necklaces are designed to give people an elegant, aesthetic and intellectual feeling, but the Tahitian black pearl necklace with fringed elements below is different. In addition to being beautiful, it also has a lot of coolness and elegance.
Twilight pearl necklace in white gold, by Yoko London
If you think the long tassels are too luxurious, the short tassel necklace is gorgeous with a little playfulness, and it can be called a good match for a tube top dress.
In Stenzhorn's ruby ​​and diamond series, the combination of round and drop-shaped gemstones makes the work light and cheerful, not too dull.
Ruby and white gold necklace, by Stenzhorn
The Van Cleef & Arpels necklace arranged in radial drops is as elegant as a corolla on the head of a fairy.
Van Cleef & Arpels Aquamarine White Gold Necklace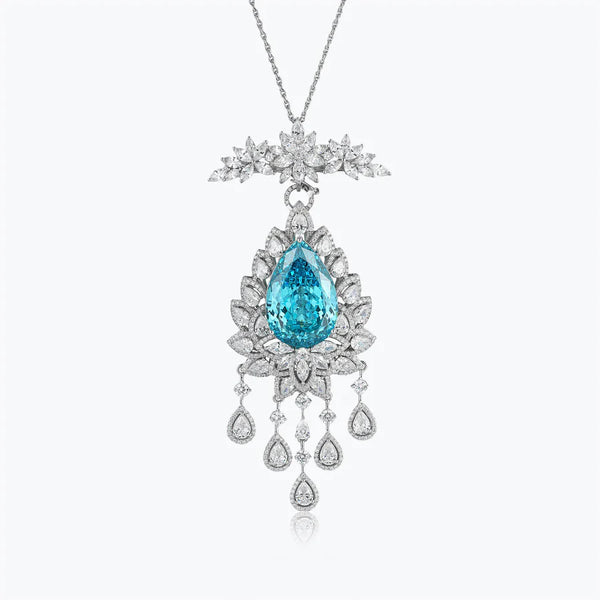 Tassel earrings
The tassel earrings with flexible lines and well-proportioned patterns are full of aura. Who doesn't love such a cutie?
Left: Étoiles Étoiles earrings in white gold with diamonds, by Chaumet; Right: Cascades royales earrings in white gold with emeralds, by Chaumet
Ruby and white gold earrings, by Stenzhorn
Ruby and white gold earrings, by Stenzhorn
Passionate gold topaz earrings, by Chanel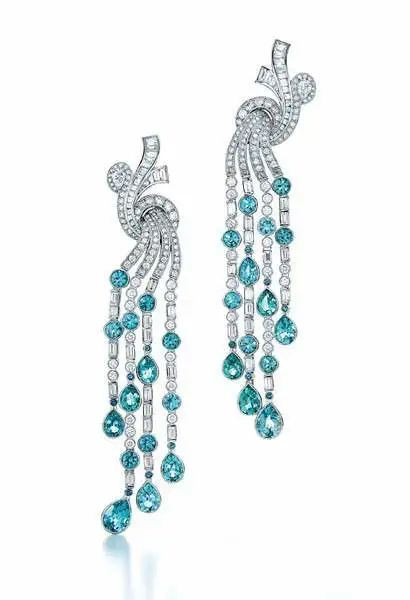 Tiffany & Co aquamarine white gold earrings
The traditional water drop tassel can also be the finishing touch, making the whole design lively.
Sunburst sapphire earrings in white gold, by Graff
The luxurious tassels full of precious stones are even more eye-catching, and only this swaying beauty is left in people's eyes.
Red Carpet Ruby and Titanium Earrings, by Chopard
Chopard sapphire and white gold earrings
Cartier Emerald Platinum Earrings