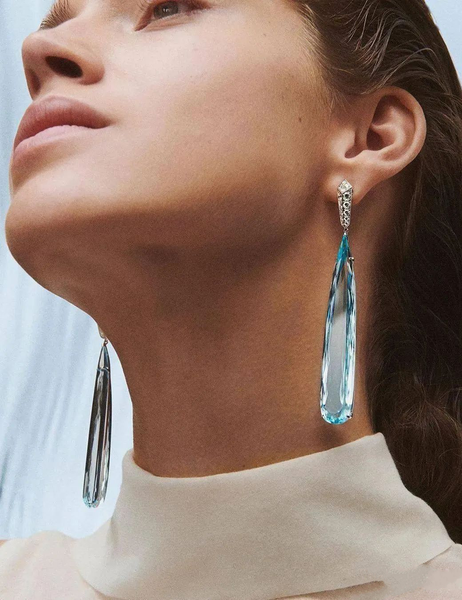 Aquamarine, the birthstone of March. It's from Latin. It means "sea water."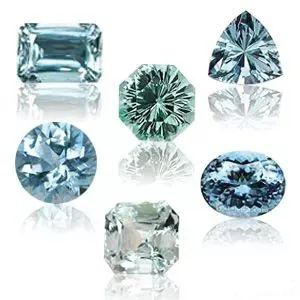 As in this airy and lovely blue sea sapphire, which means "smart, calm and brave, happy and long", it is as calm as the sea.
It is also known as the "angel stone", which calms a restless heart.
A stunning color from the ocean
Santa Maria Aquamarine
In In the industry, the bright, indigo-blue, brown (yellow)-free sea sapphire from Brazil's Santa Maria de Itabira mine is named Santa Maria.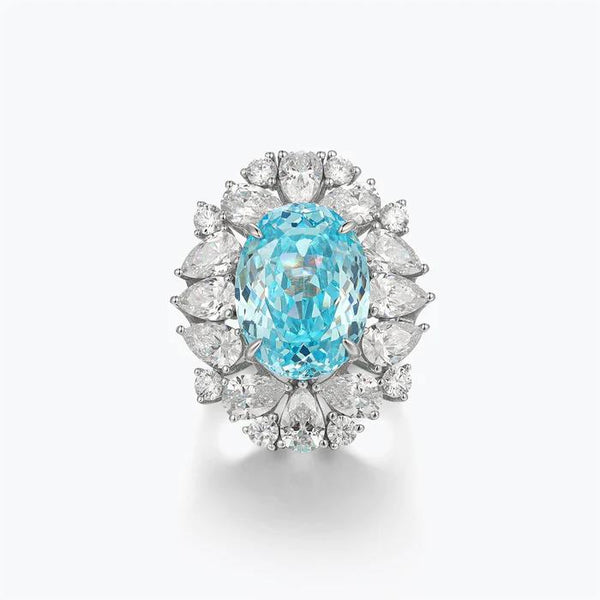 This brilliant blue finish is a signature of the best quality Aquamarine, and when you see it,you are sure to be struck by the breathtaking blue.
Aquamarines that can be rated as Santa Maria grade are very rare in the market, and large-carat Santa Maria color-scale aquamarines are even more rare.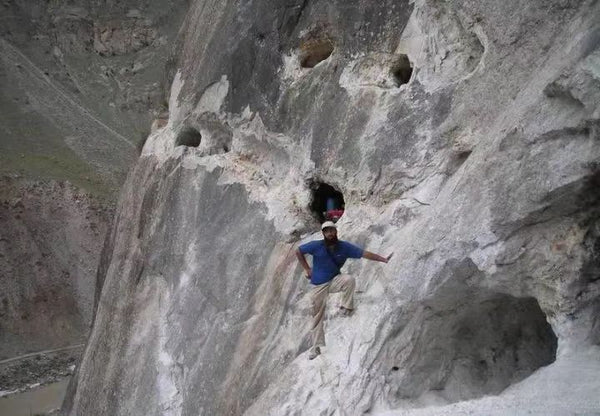 And now that the Santa Maria de Itabira deposit has almost been mined out, and the output of Africa's Santa Maria Aquamarine has been falling, its value has become even more apparent.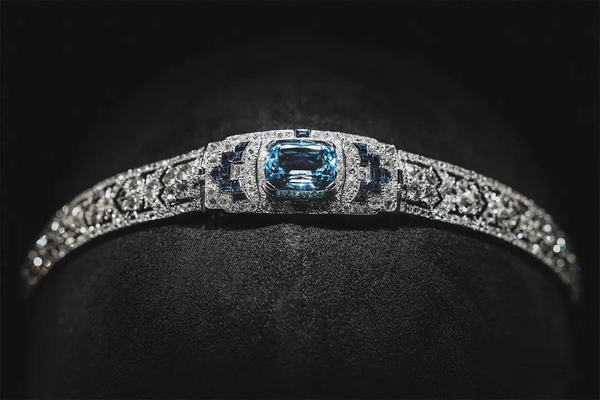 Cartier antique collection series TREFOIL clover pattern hair band
(1926, Cartier Paris)
In addition, St. Mary's Blue is not within the colour range of common sea sapphire, which also makes the price of St. Mary's Sea Sapphire very different from that of ordinary sea sapphire.
Hidden Jewelers of the High Class
Serenade Santa Maria
If we want to talk about the gems that have gained a lot of popularity, if Hai Lan Bao is second, no one dares to be first.Haibaolan is the favorite of the high-end jewelry series of jewelry brands.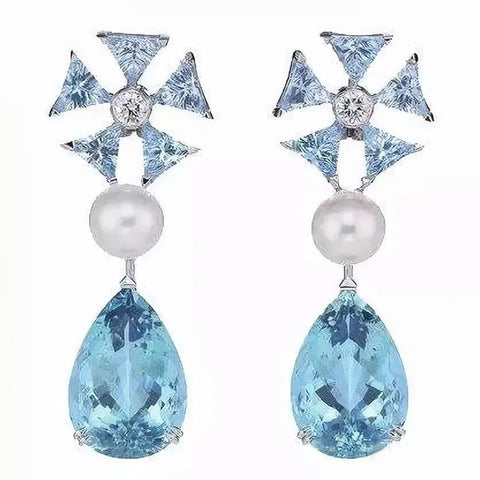 Chopard Disney Princess Collection Cinderella Earrings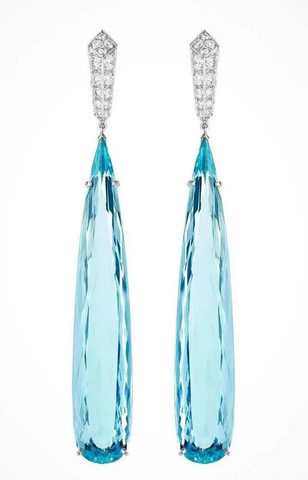 Boucheron, with its Santa Maria sapphire like the crystal-clear waters of Lake Baikal, went for a 78.33-carat piece with 2,000 Akoya pearls and created a romantic necklace as the collection's main theme.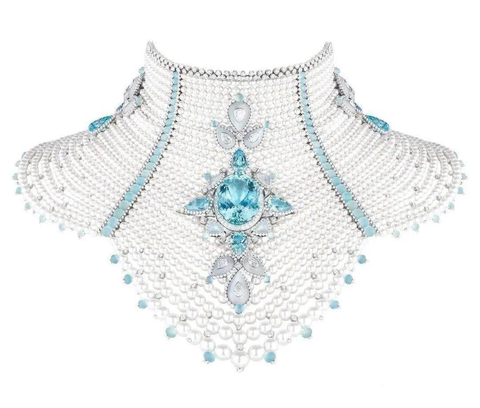 Baïkal Aquamarine and Pearl Corset Necklace Hiver Impérial High Jewelry Collection by Boucheron
Aquamarine's super-beautiful, ice-blue color has also attracted the creative director of Tiffany, whose new exquisite jewelry debut featured ice in the form of sea sapphires.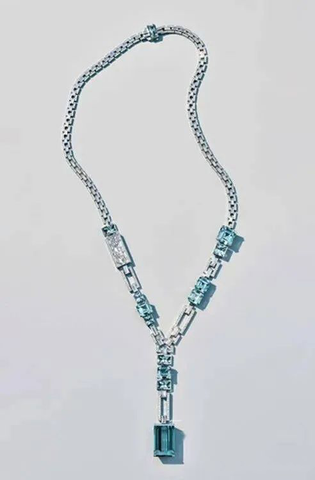 Tiffany & Co. Tiffany 2018 Blue Book High Jewelry Collection
Tiffany & Co. Tiffany 2018 Blue Book High Jewelry Collection
2019 Blue Book elegant Jewelry, Tiffany also designed square sea sapphires and diamonds into Tiffany's iconic blue box.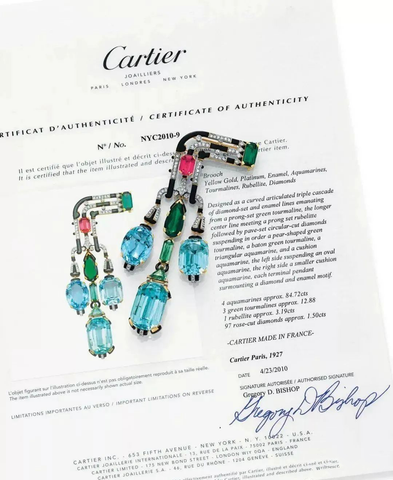 Cartier
There are plenty of big names who prefer sea sapphires, but Cartier is the most frequent and earliest to use them, and they have been a big part of the story, from the early 20th century Art Deco jewelry era to Ms Doosan's red cheetah.
In addition to rising popularity and price, sea sapphires on Santa Maria levels have risen 6-8 times compared to the previous five years.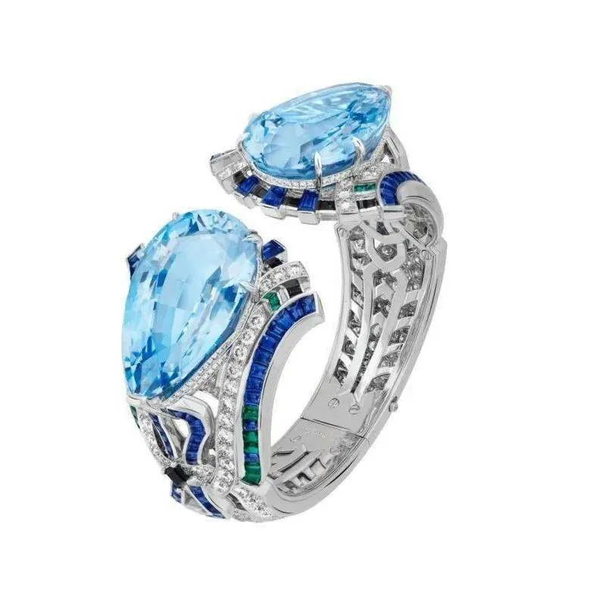 Van Cleef & Arpels
Collectors have discovered its bluster, and in 2018 the Tiffany St Mary's Sea Sapphire Foliage Bracelet, valued at up to $60,000, sold for $250,000.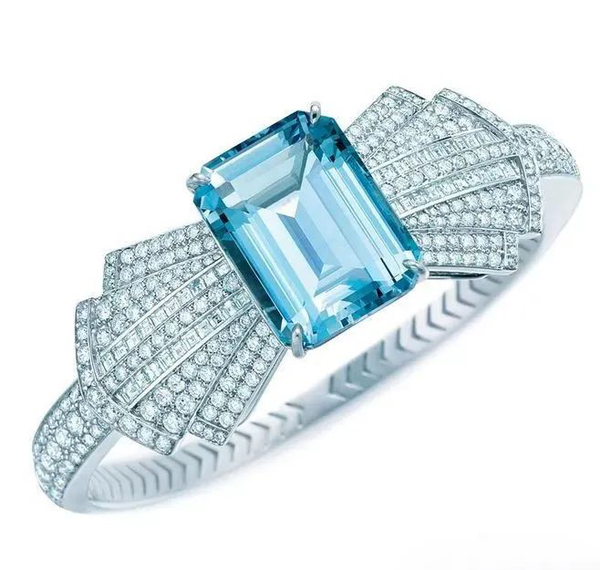 Tiffany & Co. Tiffany Aquamarine Bracelet
A year later, the Cartier St Mary's Sea sapphire necklace, valued at up to GBP 150,000, sold for GBP 459,062!
Crown Jewels Beloved of the Royal Family
Santa Maria Aquamarine
British royalty
The Queen's St Mary's Sea sapphire set comprised six pieces of jewelry: a crown, a necklace, earrings, a brooch and two rings.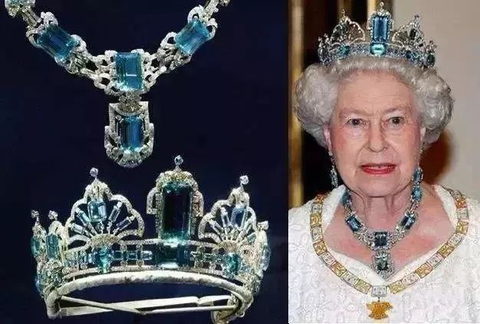 The jewelry was not a one-off collection, but had been received, remade, and rebuilt many times before and after, taking nearly two decades to slowly form a whole.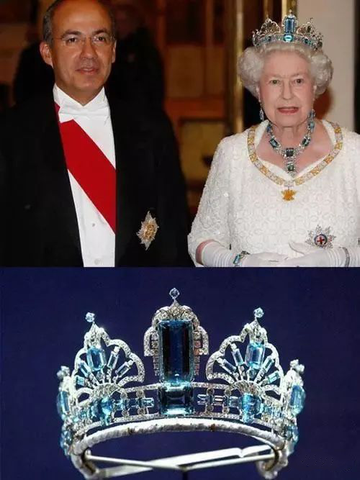 When the Queen was crowned in 1953, she received a necklace and earrings set from the President of Brazil and the Brazilian people. The set is encrusted with a large rectangular St Mary's Sea sapphire and comes in a removable pendant.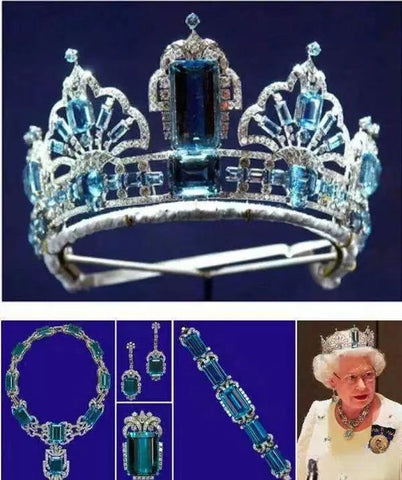 It's said to have taken another year to collect the perfect match for the Santa Maria Sea sapphire. After her first gift, Brazil continued to collect more gems for the Queen, and in 1958 she was given a large brooch and a bracelet.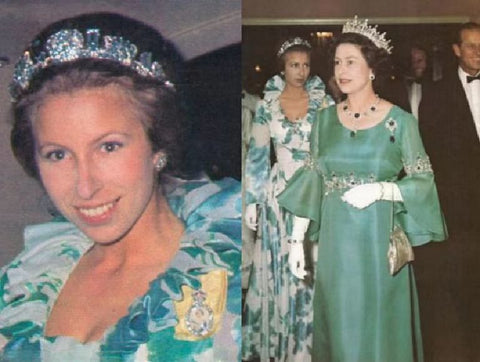 In addition to the Queen's Brasil crown, the royal family's other extra-large Santa Maria Sea sapphire, in a pineapple shape, is also quite opulent.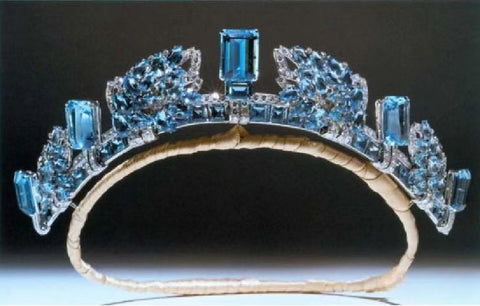 Created by Cartier, the jeweler, it features rectangular sea sapphire encrusted in a pine-nut pattern. Originally owned by the Queen's mother, it was an anniversary gift from her husband George VI.
Princess Sophie's Royal Sapphires of Santa Maria
Prince Edward's wife, Princess Sophie -- Countess of Wessex's most modern tiara, which features a sapphire and diamond necklace crown, diamonds set in a wavy platinum base, and a giant St Mary's sapphire in the center, stands out.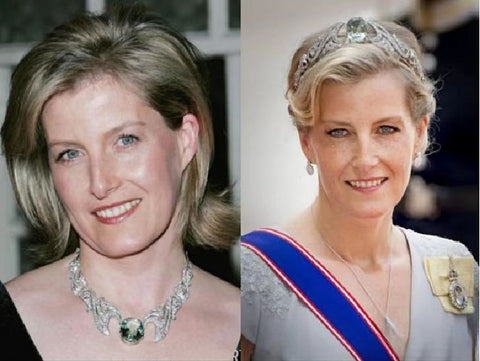 HRH Sophie, Countess of Wessex and Forfar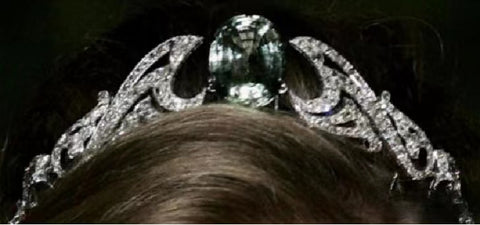 The tiara made its debut in 2005 and the Countess of Wessex has a matching necklace. The crown can also be worn as a necklace.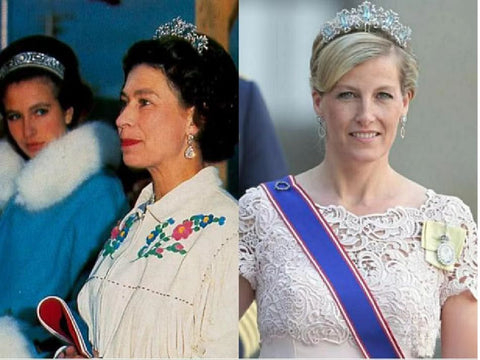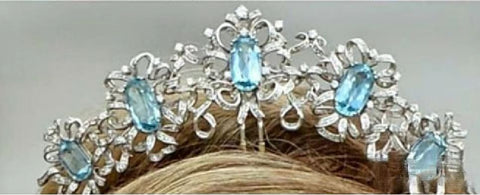 In addition to the crown, Sophie has a floral crown from Queen Elizabeth II, which contains five Santa Maria Sea sapphires.
The Duchess of Kent's St. Mary's Sea Sapphire Crown
The The Duchess of Kent also had a crown with a Santa Maria Sea sapphire, made in 1908 by jeweller Georges Fouquet, with a pristine head in a translucent enamel shape with five oval centres.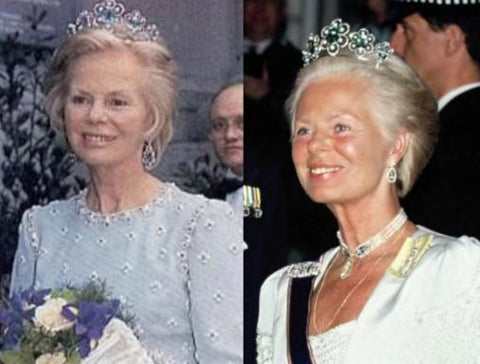 Duchess of Kent
At the center of each oval is a floral pattern made of a large Santa Maria sea sapphire, each surrounded by six natural pearls. The new headgear only retains the flowers inside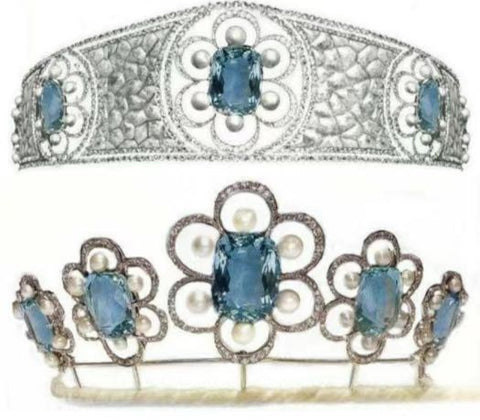 The duchess wore the headgear several times in the 1990s. In 2014, the Santa Maria Aquamarine stone went under the hammer at Sotheby's for $200,500.
Dutch royalty royalty
The Royal Dutch Jewels are all very sumptuous, and the St Mary's Sea sapphire crown is a classic Art Deco style, which is ideal for amplifying the appeal of the St Mary's sapphire.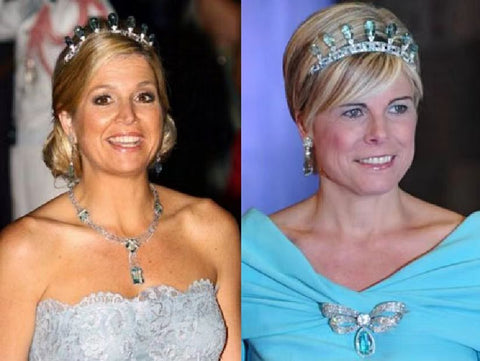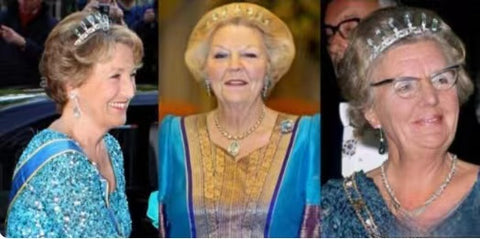 Seven briolette-cut Santa Maria Aquamarine stones stand on the diamond-encrusted base. From the former Queen of the Netherlands to the current Queen of the Netherlands, numerous women in the royal family wore them.
Swedish royalty
Princess Sibylla of Sweden, the mother of King Carl Gustaf, has a Santa Maria Sea sapphire crown.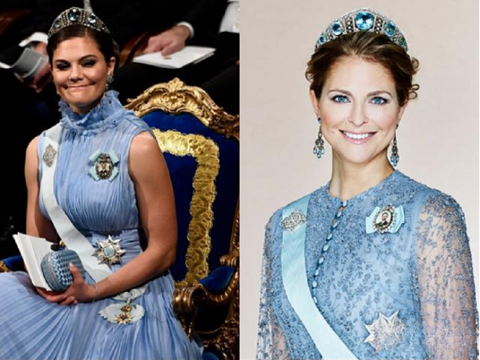 The overall shape resembles a kokoshnik tiara in Russian national dress, with an oversized carat circle of St Mary's sea-blue jewel enclosed by diamonds.
Sibylla gave the crown to her daughter Princess Margaretha, who loaned it to her nieces Princess Victoria and Princess Madeleine on several occasions.
A series of articles exploring the birthstone of jewelry:
Red Rubies: A Symbol of Passion and Power for July Babes
Uncovering the Mystique of Garnet, the January Birthstone
A Glimpse into the Fascinating History of May Birthstone-Emeralds
Yellow Diamonds: A Rare and Valuable Gem
This article was first published in https://dissoojewelry.com/.
Want to know more about aquamarine , click https://dissoojewelry.com/collections/sapphires to learn more.